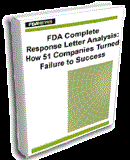 Falls Church, VA (PRWEB) December 17, 2013
FDA Complete Response Letter Analysis:
How 51 Companies Turned Failure to Success
**FDAnews Management Report **
http://www.fdanews.com/CompleteResponseLetter
A complete response letter (CRL) from the FDA delays a product's entry to the market by an average of 14 months. Companies that receive the letters take an average of seven months just to respond to them.
Imagine how much a company could save if it could anticipate the FDA's concerns and address them before the agency issues the complete response letter?
Researcher Theresa Allio, Ph.D., analyzed CRLs issued for 51 products approved by the FDA since 2009 and discovered striking underlying patterns:

Forty-seven percent of CRLs name deficiencies in CMC requirements. Imagine knowing which areas the FDA faults, then resolving these problems in advance.
The same percentage of CRLs list deficiencies related to product labeling. Here, too, knowledge is power … to resolve deficiencies before a CRL arrives.
Forty-five percent of CRLs include comments related to specific clinical deficiencies, many of which could be addressed during the drug development process to avoid unnecessary delays in an application's review.
And this is just the tip of the iceberg. To discover the patterns CRLs share, Dr. Allio analyzed dozens of these documents. Her work makes crystal clear exactly which deficiencies could trigger CRLs — and how to head them off.
Reading FDA Complete Response Letter Analysis can be an eye-opening experience. Discover the:

Most common reasons CRLs are issued and how to prevent them?
Key turning points in working with the FDA that sponsors must not ignore?
Impact of various types of CRLs on time-to-market?
Strategies for clearing FDA CRL objections without needless delays?
Understanding what triggers a CRL and what to do if one is issued, can save millions of dollars and months of delay — years, even — getting products to market. Here's how to gain that understanding … in about one hour of reading time.
ABOUT THE AUTHOR
Theresa Allio Ph.D. has 10 years' experience in drug development, including service in academia, industry and the FDA. She started her career at Vertex Pharmaceuticals, serving a key regulatory role on the Incivek and Kalydeco development teams. While at the FDA, she served as a nonclinical reviewer and as support staff for the Pediatric Advisory Committee.
WHO WILL BENEFIT
Here's a suggested list of potential readers:

Drug developers
Pharmaceutical researchers
Market researchers
Regulatory affairs staff
Drug company executives
Clinical trial operators
In-house/outside counsel
Executive staff
Board of Directors members
FDA Complete Response Letter Analysis:
How 51 Companies Turned Failure to Success
**FDAnews Management Report **
http://www.fdanews.com/CompleteResponseLetter
FORMAT: Print or PDF
PRICE: $397
EASY WAYS TO ORDER
Online: http://www.fdanews.com/CompleteResponseLetter
By phone: 888-838-5578 or 703-538-7600
ABOUT FDANEWS
FDAnews is the premier provider of domestic and international regulatory, legislative, and business news and information for executives in industries regulated by the US FDA and the European Medicines Agency. Pharmaceutical and medical device professionals rely on FDAnews' print and electronic newsletters, books and conferences to stay in compliance with international standards and the FDA's complex and ever-changing regulations.