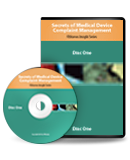 Falls Church, VA (PRWEB) December 16, 2013
Secrets of Medical Device Complaint Management
From Customer Service to Corrections and Removals
**FDAnews Insight Series DVD Course **
http://www.fdanews.com/MDComplaintDVD
When a medical device triggered a consumer complaint, the devicemaker responded immediately. All the i's were dotted and all the t's crossed.
And still the company got a warning letter. What went wrong?
FDA scrutiny can probe every aspect of an operation — customer service, field servicing, sales, device reporting, CAPA, design change, corrections and removals, and more.
Devicemakers need a systemwide solution — one that turns the entire operation into a well-oiled complaint-handling machine.
Here's just a sampling of what's covered in the three-hour video tutorial Secrets of Medical Device Complaint Management:

Differences in complaint management definitions and requirements between U.S. regulations and international standards
Rules and timelines for reporting serious adverse events
Kinds of records to keep to support complaint decisions and actions
Definitions and explanations of key terms such as serious injury, permanent damage, malfunction, corrections vs. removals, and more
What the FDA means by the all-important, but frustratingly vague phrase, "receive or otherwise become aware of information"
How to calculate the deadline for filing a Medical Device Report with the FDA and what that report should include
Who can make the decision not to report a complaint and how to support that decision
How the FDA's proposed rule for Unique Device Identifiers will impact the complaint process
And much more
It's a lot of ground to cover. Many devicemakers — especially smaller ones — have no idea where to start.
Fortunately, the instructor does.
Dan O'Leary, principal of Ombu Enterprises, shares lessons learned in 30 years of work in the quality and operational excellence fields.
In this three-hour video presentation Mr. O'Leary explains the regulatory requirements, both in the U.S. and abroad, and helps devicemakers integrate all of their operations into a cohesive complaint management system.
Here's what's included:
1. A complete course in device complaint management, from initial complaint through company integration to FDA reporting — three hours of video instruction from a top-rated expert consultant, plus
2. 9 checklists to keep you compliant at every stage, plus
3. Excel spreadsheet that asks you questions, calculates the answers and tells you what to do next, plus
4. FDA and international guidances and directives that impact every devicemaker's complaint management activities, plus
5. Printable copy of all 200+ slides in the video presentation, plus …
6. Copy of FDAnews' in-depth report, Secrets of Medical Device Complaint Management: A Guide for Compliance.
Why risk a warning letter … or worse … when it's this easy to take matters in hand?
Secrets of Medical Device Complaint Management
From Customer Service to Corrections and Removals
**FDAnews Insight Series DVD Course **
http://www.fdanews.com/MDComplaintDVD
Format: DVD
Price: $397
Easy Ways to Order
Online: http://www.fdanews.com/MDComplaintDVD
By phone: 888-838-5578 or 703-538-7600
About FDAnews
FDAnews is the premier provider of domestic and international regulatory, legislative, and business news and information for executives in industries regulated by the US FDA and the European Medicines Agency. Pharmaceutical and medical device professionals rely on FDAnews' print and electronic newsletters, books and conferences to stay in compliance with international standards and the FDA's complex and ever-changing regulations.