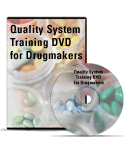 Falls Church, VA (PRWEB) March 19, 2014
Quality Systems Training DVD for Drugmakers
**FDAnews DVD Training Course**
http://www.fdanews.com/QualityDrugDVD
Pharmaceutical manufacturers are required by the FDA to train personnel in FDA quality system requirements and procedures.
But, sending employees for training can be time-consuming and expensive. And it can be frustrating when a trained employee leaves to go to work for a competitor and manufacturers are forced to start all over again.
But there is an easier way. Now manufacturers can train their staff for significantly less money, in their own office, with a new training video developed by a former FDA investigator.
Seth Mailhot, a 14-year FDA veteran who's conducted hundreds of inspections, produced this training DVD exclusively for FDAnews to address the specific weaknesses inspectors find time and again while they are on-scene evaluating drug company quality systems; everything from validation to ventilation, laboratory controls to leaking pipes.
The DVD's 12 modules cover each subpart of 21 CFR Part 211, plus an introduction to its principles and a guide to creating a quality system that ensures compliance.
Quality System Training DVD for Drugmakers is designed to give manufacturers the kind of high-level employee education everyone wants with the flexibility that makes in-house training most beneficial. http:// Order you DVD today.
Quality System Training DVD for Drugmakers is the best alternative to the never-ending expense of sending staff off-site for training.
It allows pharma manufacturers to plan sessions at times that work best for their company, that are convenient to trainers and staff, and for an amount of time that fits the company's day-to-day business schedule. Manufacturers completely avoid the stress of having to plan daily work around off-site training.
But most importantly, the http:// Quality System Training DVD gives the effective top-level training needed, while keeping its cost at a minimum.
In addition to the video presentation, Quality System Training DVD for Drugmakers contains a second disc packed with hundreds of pages of valuable resources, including:

The full text of the regulations
FDA and ICH guidances on good manufacturing practices and quality systems
The FDA report, Pharmaceutical cGMPs for the 21st Century — A Risk-Based Approach
FDAnews Management Report – A Process Approach to Pharmaceutical Quality Systems: A Guide to ICH Q10 Compliance
Copies of the presentation slides in note-taking format
Solve training problems the easy way with Quality System Training DVD for Drugmakers and greet the FDA examiner with confidence.
Who Will Benefit:

Regulatory affairs/compliance staff
Quality control/assurance managers
Chief executives, especially Operations
Line managers
Training staff
Meet the Author:
Seth Mailhot is a partner and lead of the FDA Regulatory Practice group in Michael Best & Friedrich LLP's Washington, D.C., office. During his 14 years working in the FDA he served as an investigator and conducted numerous U.S. and foreign inspections.
Seth's practice includes representation of pharmaceutical and dietary supplement makers, and covers both premarket and post-market GMP issues. Seth's practice is focused on development of premarket submission strategies and FDA enforcement of good manufacturing practices, both domestically and abroad.
DVD Training Course Details:
Quality Systems Training DVD for Drugmakers
**FDAnews DVD Training Course**
http:// http://www.fdanews.com/QualityDrugDVD
Format: DVD
Price: $1,797
Easy Ways to Order:
Online: http:// http://www.fdanews.com/QualityDrugDVD
By phone: 888-838-5578 or 703-538-7600
About FDAnews:
FDAnews is the premier provider of domestic and international regulatory, legislative, and business news and information for executives in industries regulated by the US FDA and the European Medicines Agency. Pharmaceutical and medical device professionals rely on FDAnews' print and electronic newsletters, books and conferences to stay in compliance with international standards and the FDA's complex and ever-changing regulations.