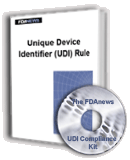 Falls Church, VA (PRWEB) April 15, 2014
The FDAnews UDI Compliance Kit
**FDAnews Publication**
http://www.fdanews.com/UDIkit
Beginning on Sept. 24, 2014, a unique device identifier (UDI) must be added to Class III medical devices distributed in the US.
And it's already clear that implementation and compliance with this new rule is going to be a very big challenge for devicemakers.
Devicemakers need to understand what UDI is, who it applies to, what the exceptions to the rule are, what deadlines must be meet, what UDI issuing agencies are and how to work with them.
Let's clarify: a unique device identifier (UDI) allows a devicemaker to identify a specific device in a standardized way.
Simply put, its use eliminates critical problems, such as losing track of what devices have been used on which patients, or where any one device is at any given time.
It also improves the ability to conduct effective postmarket surveillance or carry out effective recalls.
Once UDI is fully developed and implemented, manufacturers, distributors, healthcare providers and the FDA will all be able to more easily identify devices throughout the supply chain.
To be clear, UDI is not a replacement for other systems, recalls and adverse event reporting, currently in place. Rather, it provides a link to product information that can assist and support other existing operations.
But implementing UDI is going to be the real challenge. That's why FDAnews developed the UDI Compliance Kit.
It walks devicemakers step-by-step through the key portions of the UDI final rule, clearly pointing out the changes from the proposed rule and providing all the implementation and compliance details they need to know.
With the new UDI Compliance Kit, devicemakers will gain a clear understanding of this complex new rule and work with it more successfully. Readers will learn:

The difference between UDI and track and trace;
The timetable for implementation for Class I, Class II and Class III devices;
Which devices must comply with the rule and which are exempt;
What information must be included on product labels;
How to submit device identification information to the GUDID;
About the accredited UDI issuing agencies, their roles (and how to become one);
The benefits of UDI to industry, regulators and the public;
And more.
Plus, readers will get answers to those difficult, in-the-weeds questions that are vexing the industry. Who is a labeler under the rule; what is the single-use device exemption and how does it apply to implants; what constitutes a shipping container; how are trays, sets and kits handled; how does the rule address reprocessing of devices; and more.
What will readers find in The FDAnews UDI Compliance Kit? An invaluable collection of consolidated material from the FDAnews training database, designed to help a company become fully compliant as quickly as possible. For one low price:
FDAnews' best-selling report Unique Device Identifier (UDI) Rule: Benefits and Challenges Facing Industry. Fully updated to reflect the final rule, chapter by chapter the report includes the critical information you need to get down to the real nitty gritty of complying with the UDI rule.
A 90-minute CD recording of FDAnews' recent highly rated webinar, Top 9 UDI Compliance Challenges. Hear directly from former FDA UDI Chief Jay Crowley, the man who wrote the UDI rule, about how to master the nine most common UDI implementation challenges facing industry.
A complete package of reference regulations and guidance covering all the UDI requirements, including the Unique Device Identifier Final Rule, FDA guidance for implementation of the UDI requirements, International Medical Device Regulators Forum Guidance on UDI implementation and a quick-reference guide to what changed in the final UDI rule.
An impressive 50-page presentation filled with the details of the new rule and specifics on how to comply with the most common industry problems.
With The FDAnews UDI Compliance Kit, devicemakers will have everyone at the company up to date on the latest UDI rule and be on the road to successful compliance.
Who Will Benefit:

Executives at device manufacturers
Data integrity and master data management teams
Supply chain executives
Healthcare providers
Device distributors
Group purchasing organizations
Publication Details:
The FDAnews UDI Compliance Kit
**FDAnews Publication**
http://www.fdanews.com/UDIkit
Format: Print
Price: $597
Easy Ways to Order:
Online: http://www.fdanews.com/UDIkit
By phone: 888-838-5578 or 703-538-7600
About FDAnews:
FDAnews is the premier provider of domestic and international regulatory, legislative, and business news and information for executives in industries regulated by the US FDA and the European Medicines Agency. Pharmaceutical and medical device professionals rely on FDAnews' print and electronic newsletters, books and conferences to stay in compliance with international standards and the FDA's complex and ever-changing regulations.