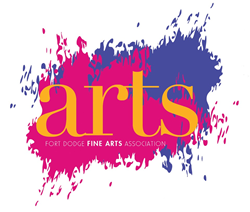 "Our schedule of fine art performances, exhibits and activities is just amazing," says Amy Bruno, Program Coordinator with The Fort Dodge Community Foundation and United Way. "Every month you will find a wide variety for the entire family."
Fort Dodge, IA (PRWEB) April 30, 2015
The Fort Dodge Fine Arts Association members embrace a variety of arts that enhance the quality of life for the community and region. The Comedia Musica Players are an excellent example of a theatre group that has entertained thousands since it was founded in 1968. The group is now organizing for the annual stage performance. The play this year is "The Addams Family" with performances on November 5th, 6th and 7th.
Larry Mitchell and Scott Griffith founded the Comedia Musica Players. It was the first theatre troupe to perform dinner theatre shows outside of the Chanhassen Dinner Theatre in Minnesota. The troupe has produced and performed at least one full-length musical each year since. From 1975 to 1977, they made three tours to England, performing at the Northcutt Theatre in Exeter. During the 70's and early 80's, they toured throughout Iowa and in 1986 performed again at the Tabor Opera House. In 2006, Comedia Musica Players presented the World Premiere of Cardiff, written by local author Deann Haden-Luke and featuring the music of Karl King. They are known to give professional-quality productions of musicals of all types, from the dramatic "Man of La Mancha" and "Camelot" - to lighter fare such as "The Pajama Game", "State Fair" and "Beauty and the Beast" - to the more operatic "Evita" and "Phantom". The troupe's most recent productions include "Into the Woods", "Chicago", "Young Frankenstein" and "Annie". New troupe members are always welcome – whether you prefer to be on stage or behind it! The musical performed by the troupe in the fall of 2015 will be their 48th annual production.
Comedia Musica Players are a non-profit volunteer organization, bringing together and showcasing talented performers in the Fort Dodge area. With an annual budget to produce a show over $35,000 – this includes a large fee for use of a local auditorium, royalties paid to the licensing company, set construction and scenery, costumes and publicity. Paid positions needed to make the yearly productions possible include Director, Music Director / Conductor, Choreographer, Stage Manager, and Orchestra Members. Corporate sponsors and fine arts grants play an enormous part in helping this group thrive and remain a part of the Fort Dodge performing arts community.
The Fort Museum will open for the 2015 season the weekend of May 2nd. Opening weekend events will include Doc Anderson performing old-fashioned hokum and flim flam, Shannon Bardole of Little White Lye Soap and Broom Works demonstrations, Jeorge and Aubri Rochlitzer operate printing presses to show how newspapers were printed at the Print Shop , Ghost Garrisons are uniformed historic re-enactors will portray the soldiers who founded Fort Dodge, Master Furniture Maker and woodworker Robby Pederson and Frontier Fiddle Band entertaining visitors. A display from the Lazy Ike Collectors Club will also be open to the public.
New buildings added to The Fort Museum Main Street include the McGill, Secor and Snell Land Office is filled with Fort Dodge memorabilia, photos and documents. Visitors will also see the Carlson-Richey Log Cabin, Border Plains One Room School House, Harcourt Jail, Ole Fjetland Cabinet Shop, Donahoe's General Store, Schwarz Drug Store, Colby Brothers Livery, Sentinel Newspaper Office, Shold Blacksmith Shop, Sutler Store, Tinsmith Shop, the original log Quartermaster Building of General Lewis A. Armistead.
Additional attractions include the stoneware and pottery collection, Cardiff Giant exhibit, period furniture and civil ware artifacts, Indian artifacts and other historical exhibits dating to the mid 1800's of the region and State of Iowa.
Visitors will also be able to purchase Fort Museum memberships. Memberships include unlimited free admission to the Fort, a Trading Post gift certificate and quarterly newsletter. Various levels of support are available, including individual, family, sustaining and business, as well as Leader and Heritage Club.
"Our schedule of fine art performances, exhibits and activities is just amazing," says Amy Bruno, Program Coordinator with The Fort Dodge Community Foundation and United Way. "Every month you will find a wide variety for the entire family."
The Fort Dodge Fine Arts Association promotes all the fine arts and cultural programs in Fort Dodge and surrounding communities. To learn more about the Fort Dodge Fine Arts, please contact Amy Bruno at 515-573-3180 or by email at amy(at)fd-foundation(dot)org. The website provides additional schedule of events and performances at http://www.fdfineartsassociation.org.