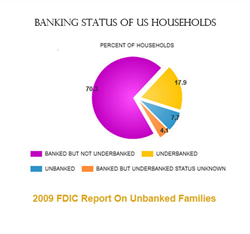 "Without a bank account, everything is more difficult: paying rent, your utilities. The hope is they'll open a checking account to pay their bills, but also to start saving. It's an important step in becoming financially independent." ~ Alana Golden
Minneapolis, MN (PRWEB) September 06, 2012
The Federal Deposit Insurance Corporation (FDIC) Advisory Committee on Economic Inclusion (ComE-IN) will meet on Wednesday, September 12, 2012, to discuss results of the FDIC's second National Survey of Unbanked and Underbanked Households that will be released at the meeting.
Following Monday's announcement that banks are showing profit gains once again, Home Destination would like to see new efforts to find additional means for unbanked households to become homeowners.
The U.S. Bureau of the Census conducted the National Survey of Unbanked and Underbanked Households in June 2011 as a supplement to its Current Population Survey. It collected responses from nearly 45,000 households.
The FDIC used survey responses to categorize households' banking status as:
1) unbanked
2) underbanked
3) fully banked.
The first national survey to determine the number of and impact of unbanked U.S. households was conducted in 2009. It is the unchallenged largest survey to date of the unbanked and underbanked. Home Destination finds the numbers to be startling and the situation in-comprehensible to those whose bank accounts are a long-term part of daily life and the processing of paying for things.
It revealed that, "more than one quarter (25.6 percent) of all households in the United States were unbanked or underbanked and that those households were disproportionately low-income and/or minority. The 2011 survey will update previous results and will also include ownership rates by account type as well as additional information on households' use of alternative financial services".
The University Of Minnesota has conducted extensive research on the topic. The study indicates that those who own bank accounts, called "banked households", are more likely to own other assets including accounts related to savings, credit, and insurance. Those without financial accounts are less likely to own a home and a car. As the recession has left many without a promotion in the midst of rising costs, or maybe even a job, their bank account is thinner, or worse yet, maybe nonexistent. How does a family without a bank account buy a home?
There are more than two million unbanked families in the United States. Most unbanked families have less than a $25,000 annual income. The purpose of the research and accrued information provided by the University of Minnesota, is meant to increase awareness of the unbanked population for agency and business professionals to enlighten their understanding of why people choose not to use United States banking services. Understanding and addressing the needs of unbanked people may impact future services of the United States banking system.
Truila offers one answer. "You may receive a total Gift from a family member for the purchase of the home you wish to live in. The amount or percentage of the purchase price of the Gift will determine which loan programs you would qualify for. Please note that many Lenders have different criteria regarding Assets, even if general program guidelines allow for the Gift. (We call these "overlays" in the parlance)"
Many anticipate that at the next FOMC meeting, Federal Reserve Chairman Ben Bernanke will address questions as to how the Federal Reserve is viewing our current banking systems. Regardless of rich or poor social positioning, we need to recognize that the unbanked and underbanked households in our midst carry an impact and, to some measure will shape our banking systems going forward.
Homeowners living in Minneapolis and St Paul communities, may contact Jenna Thuening, owner of Home Destination, to begin the process of buying a home and gain guidance through the steps of determining how to gain a home mortgage loan in the midst of today's tight lending standards.