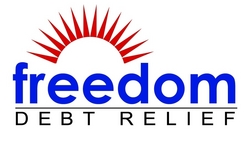 Since Freedom Debt Relief settles more credit card debt than any company in the nation, we are confident that Fresh Start will be one of the most effective debt relief programs on the market for consumers
San Mateo, CA (Vocus) October 22, 2010
On Oct. 27, Freedom Debt Relief (FDR) will launch the "Fresh Start" program, designed to help consumers get out of debt quickly with no up-front fees.
FDR's Fresh Start program gives customers complete confidence that FDR will not charge fees until services are performed, and complies with final Federal Trade Commission (FTC) rules regulating the debt settlement industry, says Andrew Housser, CEO of FDR.
"Since Freedom Debt Relief settles more credit card debt than any company in the nation, we are confident that Fresh Start will be one of the most effective debt relief programs on the market for consumers," said Housser. "Consumers will receive all the great things FDR has always offered – a service that effectively settles debt, and excellent customer service through the phone or Web – as well as the security of knowing that they won't pay a penny until a debt is settled."
When contacting FDR, customers first speak personally with a certified FDR debt counselor, who helps to validate debt balances and assesses the situation. The counselor then works with the customer to develop a settlement plan. Under terms of the program, clients make just one monthly program payment, with their funds building in a dedicated savings account that the individual owns and controls. When FDR settles one of the consumer's debts, FDR will collect only the fees associated with that debt and continue working to settle other debts in the program.
FDR's debt reduction Web page helps potential clients understand debt settlement, with a video that explains the debt help process.
"With Fresh Start, the consumer pays no up-front fees, which fully complies with both the spirit and the letter of the FTC advance-fee ban," said Housser. "While many companies claiming to comply with the letter of FTC Rule have sought loopholes that might allow them to continue charging fees before consumer debts are settled, FDR pledges to wholly abide by the advance-fee ban. FDR will continue to offer the same service on which its customers have always relied, with a fee structure that ensures consumers will only pay for results," he continued. "FDR clients will find no up-front fees charged under any loopholes in the regulations."
The largest negotiator of consumer debt in the nation, FDR has settled more than $400 million of debt in the last year alone. Housser participated in the FTC rule-making process for more than a year as the Commission studied the debt relief industry's practices, methodology and results.
Debt settlement is a form of debt relief in which debt specialists negotiate directly with creditors on the consumer's behalf to resolve the consumer's debt balance. Offering an alternative to credit counseling, debt consolidation and bankruptcy, settlement programs help qualified clients fully resolve their debts, commonly in two to four years.
About Freedom Debt Relief (http://www.freedomdebtrelief.com)
Freedom Debt Relief provides consumer debt settlement services. Working for the consumer to negotiate with creditors and lower principal balances due, the company has served nearly 100,000 clients since 2002. The company is an accredited member of The Association of Settlement Companies and holds "platinum" member status with the International Association of Professional Debt Arbitrators. FDR holds the Goldline Research Preferred Provider certification for excellence among debt settlement companies.
Freedom Debt Relief is a wholly owned subsidiary of Freedom Financial Network, LLC (FFN). Based in San Mateo, Calif., FFN also operates an office in Tempe, Ariz. The company, with more than 600 employees, was voted one of the best places to work in both the San Francisco Bay and Phoenix areas in 2008 and 2009.
# # #