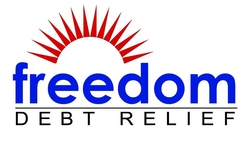 Banks are likely to lose income after the changes, and so consumers should be wary of other policy revisions banks may implement to hit consumers' pocketbooks in other ways.
San Mateo, Calif. (Vocus) March 30, 2010
New overdraft protection laws are starting to trickle into bank policy, possibly helping consumers avoid falling into unintentional debt -- but Freedom Debt Relief vice president Kevin Gallegos said consumers need to use caution to make smart choices about the new rules.
In the past weeks, several U.S. banks have begun to announce changes to overdraft policies in response to rules made by the Federal Reserve Board last fall. While some of the changes – such as elimination of overdraft fees by some banks – appear as welcome measures, Gallegos cautions consumers to pay attention to the details and to additional policy shifts going forward.
"Banks are not making these changes voluntarily to help consumers -- instead, the law requires the changes," he explained. "Banks are likely to lose income after the changes, and so consumers should be wary of other policy revisions banks may implement to hit consumers' pocketbooks in other ways."
The new rules include:

As of Jan. 1, financial institutions must report to consumers how much they have paid in overdraft fees in the most recent statement period and in the calendar year to date.
As of July 1, financial institutions must revamp their policies to require customers to opt in for overdraft protection, and agree in advance to an overdraft fee for ATM withdrawals and one-time debit transactions that exceed the account balance. Customers who do not opt in will have their charges declined if they exceed their available balance.
The changes do not apply to checks or automatic bill payments. Banks may still automatically enroll customers in overdraft programs for these types of transactions, which could result in problems for consumers who aren't paying attention.
"These changes will help reduce the debt that can accumulate from overdraft fees. We have seen examples where consumers have found the cost of purchases multiplied many times over with bank overdraft fees after falling just a few dollars short," Gallegos said. "However helpful this may be, all consumers should exercise vigilance and stay alert, as banks and other lenders may implement new ways to generate their income from interest and fees in 2010 – even with the new rules."
Other financial highlights recently announced:
1. Personal income increases, but disposable income falls. The Bureau of Economic Analysis reported yesterday that personal income was $1.2 billion, or less than 0.1 percent, higher in February. Disposable personal income (DPI) increased $1.6 billion in February in contrast to a drop of $26.0 billion in January, which primarily reflected higher income taxes. Real disposable income -- DPI adjusted to remove price changes -- increased 0.1 percent in February, in contrast to a decrease of 0.4 percent in January.
However, real personal consumption expenditures (PCE) increased 0.3 percent in February, higher than January's increase of 0.2 percent.
2. Consumer debt climbs. The Federal Reserve Board has released its most recent statistics reporting consumer debt. As of January 2010, U.S. consumers owed a total of $2.46 trillion in consumer debt (excluding mortgage debt). That figure is up $5 million over revised reports from December 2009. The change is a 2.4 percent annual rate and the first time consumer debt has increased month to month since 2008.
This is the first in a series of quarterly comments on timely debt and credit issues that matter to consumers. To schedule an interview with Kevin Gallegos or another financial expert at Freedom Debt Relief, please contact Aimee Bennett at 303-843-9840.
About Freedom Debt Relief (http://www.freedomdebtrelief.com)
Freedom Debt Relief provides consumer debt settlement services. Working for the consumer to negotiate with creditors and lower principal balances due, the company has served more than 80,000 clients since 2002. The company holds Goldline Research Preferred Provider certification for excellence among debt settlement companies.
Freedom Debt Relief is a wholly owned subsidiary of Freedom Financial Network, LLC (FFN). Based in San Mateo, Calif., FFN also operates offices in Sacramento and Tempe, Ariz. The company, with 600 employees, was voted one of the best places to work in both the San Francisco Bay area and the Phoenix area in 2008 and 2009.
###