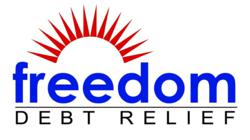 San Mateo, Calif. (PRWEB) January 25, 2012
At the end of 2011, with consumer confidence higher and unemployment down, consumers opened their wallets and spent during November and December – a trend that could indicate a worrisome direction for consumer debt, according to the Freedom Debt Relief Quarterly Comment on consumer debt and credit issues.
Recent data from the Federal Reserve Board indicates that consumers went deeper into debt for both revolving and nonrevolving credit accounts in November 2011. Other statistics show that holiday retail spending in December was at least 4.7 percent higher than the same period in 2010.
"When spending and debt increase, but income stays the same or declines, it's a problem for any budget," said Kevin Gallegos, vice president of Phoenix operations for FDR. "After the strain of several years of economic struggle, seeing revolving debt increase can mean people are giving in to the temptation or the need to rely upon credit to meet their household needs. When total debt begins to climb, we become concerned that those charges are not being paid off and could result in financial trauma for many Americans."
The latest Federal Reserve statistics show that total consumer debt increased consistently during 2011, rising by 2.3 percent from the first quarter to the last. While that percentage might seem small, Gallegos noted, the total amount consumers owe has gone up by more than $56 billion since Q1 2011. To put that figure into perspective, it equates to every American age 18 and up owing $240 more than they did last January.
Recent financial data as reported:
1. Consumer debt at its highest since 2009. The latest data from the Federal Reserve Board show that total consumer debt is back on an upward trend. In November, the most recent month on record, total consumer debt (excluding mortgage debt) stood at $2.49 trillion, an increase of close to 1 percent over the previous quarter's report. While year-end data has not yet been released for 2011, total consumer debt will almost certainly stand significantly higher than at year-end 2010, when it was $2.43 trillion.
2. Revolving debt shot up in November. Most worrisome, potentially, to economy watchers is the fact that total revolving debt – which includes credit card debt – rose year-over-year by 8.5 percent, to $798.3 billion in November. The all-time high U.S. consumer revolving debt balance (seasonally adjusted) was $972.2 billion in 2008. The recent low was $790.2 billion in April 2011. The total has risen by $5.6 billion in 2011.
3. Non-revolving credit continues upward climb. Non-revolving consumer debt – which includes auto and RV loans, and education loans – increased by 10.7 percent year-over-year in November to $1.68 trillion. That figure is 0.8 percent higher than in October, an increase of $14.8 billion.
4. Personal income up slightly. The Bureau of Economic Analysis reports that personal income lifted slightly in November, rising by 0.1 percent or $8.5 billion. Disposable personal income fell by less than 0.1 percent ($5.0 billion). These changes follow two consecutive months of increases in September and October.
5. Spending up slightly. In November, consumers boosted personal consumption expenditures by 0.1 percent ($13.1 billion).
6. Employment numbers improve. The U.S. unemployment rate finally fell at the end of 2011. After averaging just over 9 percent throughout most of 2011, in November unemployment moved to 8.6 percent.
The FDR Quarterly Comment pulls together significant statistical releases and provides quarterly comment on timely debt and credit issues that matter to consumers. To schedule an interview with Kevin Gallegos or Andrew Housser, contact Aimee Bennett at 303-843-9840 or aimee(at)faganbusinesscommunications(dot)com.
About Freedom Debt Relief (http://www.freedomdebtrelief.com)
Freedom Debt Relief provides consumer credit advocacy, also known as debt resolution, services. Working as an independent advocate for consumers to negotiate with creditors and lower principal balances due, the company has resolved more than $1.5 billion in debt for more than 120,000 clients since 2002. The company is an accredited member of the American Fair Credit Council (formerly The Association of Settlement Companies) and a platinum member of the International Association of Professional Debt Arbitrators. FDR holds the Goldline Research Preferred Provider certification for excellence among debt relief companies.
Freedom Debt Relief is a wholly owned subsidiary of Freedom Financial Network LLC (FFN). Based in San Mateo, Calif., FFN also operates an office in Tempe, Ariz. The company, with more than 500 employees, was voted one of the best places to work in the San Francisco Bay area in 2008 and 2009, and in the Phoenix area in 2008, 2009 and 2010. FFN's founders received the Northern California Ernst & Young Entrepreneur of the Year Award in 2008.
# # #