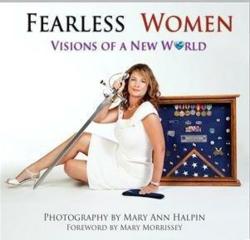 Great change is taking place by fearless visionary women around the world! I am moved by the amazing, Fearless Women that I have met and photographed over these many years. Together we will embrace our sword of courage to move beyond. Mary Ann Halpin
Study City, California (PRWEB) May 14, 2012
Fearless Women Global Conference - May 18-19, 2012
Come join us in celebration of powerful fearless woman across the globe and be a part of the Fearless Evolutionary Movement! Gather with some of the most dynamic women from around the world who are featured in a powerful new book by world-renowned photographer Mary Ann Halpin, Fearless Women, Visions of a New World.
Join in the dialogue to make this world a better place. Participate in this unique event that will ignite the calling in your heart to embrace your sword of courage, move you through your fear to your vision and empower your life to transform the world!
10% of the proceeds from the Fearless Women Event are going to the non-profit, A Billion Fearless Women, helping women and children around the globe.
50% of the proceeds from the sale of the book at the event, Fearless Women, Visions of a New World, will benefit A Billion Fearless Women.
CLICK HERE TO REGISTER
About Fearless Women Movement
The Fearless Women movement and organization were inspired by the HH Dalai Lama who in 2009 declared, "The world will be saved by western woman." Fearless Women Global founder and visionary photographer, Mary Ann Halpin took this to heart, gathering women with the wisdom, dynamism and vision to lead the way. One of her first steps was to create a book series titled Fearless Women. Events in twelve major U.S. cities followed.
A global visionary movement, Fearless Women fosters women who make a difference in the world by overcoming their own fear with courage and uplifting others with love. Inspiring growth and transformation of themselves and others, Fearless Women builds self-direction, confidence and connections.
At the helm is Fearless Women Global, an international company with a mission to inspire, motivate, educate and connect women leaders, business owners, and community members. Members form enduring connections through its membership program, events, products, services and non-profit activities.
In addition, the sister non-profit organization, A Billion Fearless Women, aims to bring a billion women together globally to generate and support charitable projects that create a more compassionate, equitable and healthy world. One such project is Miracle Village in Ki-Mombasa, Uganda, where a new community with educational and health care facilities is being built for women and children living in extreme poverty and fear.
Fearless Women Global and its partners are a sisterhood of women who are stronger together than on their own as they support, honor and stand for each other in our challenged world.
For more information, visit: http://www.fearlesswomenglobal.com
Follow us on:
Facebook: http://www.facebook.com/fearlesswomen
Twitter: @FearlessWomenUS