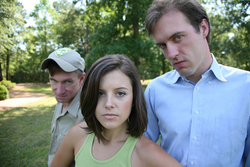 The Secret Life of Bees
Yucaipa, CA (PRWEB) July 20, 2009
The current wave of horror entertainment continues to ride high despite grim economic conditions in the US. Hot horror production studio, Fearmakers, has just released its coeds and swamp cannibals horror film entitled DISMAL, now available on Time Warner's On Demand service from July 16th though October 15th, 2009. Additional cable systems such as Charter and Comcast are being added throughout July.
DISMAL is an intense, heart-pounding dish served with a side of gore that every true horror fan must see. Director Gary King takes his first trip into the genre and delivers a stylish 70's vision with a hot cast, plenty of action and enough twists and turns to keep the audience on the edge of their seat. The cast includes newcomers Tim Morris, Lydia Chandler, Meagan Reedy, Jade Arnold, Will Triplett and Capel Kane and a performance by Jack Harrison and Idiot and Bill Oberst, Jr. as the creepy ranger Dale that you won't want to miss. Written for the screen by Fearmakers own Bo Buckley, "DISMAL" is sure to be a hit. A trailer for DISMAL can be found at The DISMAL movie web site.
Watch DISMAL on Time Warner, Charter, Comcast and other cable systems from July 16th to October 15th, 2009.
Lead actor Bill Oberst, Jr. (Ranger Dale) is thrilled about the pending release of DISMAL. "As they say down in the swamps, 'July is hotter than the hinges on the gates of hell!' It's a perfect month to sweat it out with the hotties of DISMAL, who are about to have the summer camping trip of a lifetime, or 'deathtime' as the case may be," quips Oberst. When asked what DISMAL means to him, Bill replied "DISMAL means fear. 2am fear. Cold sweat-dripping-down-the-back-of-your-neck-onto-the-ridges-of-your-spine-trying-to-hold-your-breath-so-they-won't-you're-still-alive fear."
Director Gary King is also excited about the release. "The release of DISMAL gives an opportunity for a whole new audience to experience an indie horror film with its heart in the right place....in the mouth of swamp cannibals," says King. He continues by stating that "horror fans who have already seen a sneak peak of the film can't wait to get the DVD in their hands -- so it's great to be able to show others what they are so excited about."
"The DVD will be available for purchase late in 2009," says Producer Christopher Cook. "Fans have been clamoring for it and we've been working hard on the DVD extras to give them a great package."
Fearmakers is also on track to release their Bigfoot film, SAVAGE, in the near future. SAVAGE was which was shot shortly after DISMAL and is currently in post production.
SAVAGE is a dramatic tale of the conflict between civilization and nature. Hunters become the hunted as Bigfoot seeks bloody revenge on those who have destroyed his territory. Fans will love the hairy beast and its primal justice. The cast includes Martin Kove (Karate Kid, Death Race 2000), Tony Becker (The Waltons, Tour of Duty), and Lisa Wilcox (A Nightmare on Elm Street 4: The Dream Master, A Nightmare on Elm Street: The Dream Child).
About Bill Oberst, Jr. (Ranger Dale from DISMAL):
Bill has appeared in various TV shows such as Animal Planet's "Lost Tapes" and the History Channel's feature film "Sherman's March," where he played General William Tecumseh Sherman. His theatre experience includes "Jesus of Nazareth" and over 650 performances of "Lewis Grizzard: In His Own Words." Bill has also toured as John F. Kennedy and Mark Twain. Originally from South Carolina, Bill currently lives in Los Angeles where he works as an actor. He is seen by millions of internet viewers as the morally ambiguous Dr. Leonard Alderman, a regular character in the popular web series, "LG15: The Resistance." In addition to playing Ranger Dale in "Dismal," his feature film work includes the role of Sheriff Gaston in "The Secret Life of Bees," as well as leading roles in three feature films set for release in 2009.
About DISMAL Director Gary King:
Gary King is an independent filmmaker based in New York. He started his film career in 2004 with his short film "Favors". Committed to quality projects, Gary continued his career with "Hubris," which appeared in film festivals across the country and recently completed his first feature film "New York Lately" -- which hits the festival circuit in 2009. A big fan of the horror genre, Gary was delighted when he was offered to direct "Dismal" by Fearmakers.
About Fearmakers:
Fearmakers is an independent motion picture production company. Our mission is to produce quality horror, sci-fi and suspense thriller entertainment with mass market appeal. By using the collective efforts of highly creative and resourceful artists and filmmakers, Fearmakers is able to produce quality entertainment on a low budget.
The DISMAL movie web site
DISMAL - "Eat or Be Eaten"
###