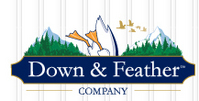 Most people simply do not sleep on a pillow of the proper firmness
The Woodlands, TX (PRWEB) September 17, 2007
Down and Feather Company releases informative hints and tips for choosing the correct pillow firmness for more comfortable, restful sleep. Sleeping with an incorrect firmness of pillow to support the neck and head is directly linked to back pain, neck pain, and decreased quality of sleep. What defines "incorrect pillow firmness" is largely based on personal preference. However, several factors come into play with regard to selecting the right pillow firmness.
"Most people simply do not sleep on a pillow of the proper firmness," announces David Smith, President and CEO of Down and Feather Company. During sleep, the body needs to recuperate and recover from the physical stress of being alert and awake all day in order to prepare for the physical stress of the next day. Many people wake up in the morning feeling groggy, tired, and even physically drained. The fact is that a comfortable and proper length of sleep can be reached, and many times, the enemy of a restless night's sleep is a subtle foe: an unsupportive pillow.
In order to achieve restful sleep, a pillow needs to be comfortable to the individual user, as well as supportive. The pillow must also be able to change and mold to each new position of the user, as the body changes positions several times during a single night's sleep. A good pillow will be able to shape itself to the contours of the body regardless of the position of the user.
The pillow must also be at a level of firmness that suits the tastes of each individual consumer. After all, pillow firmness is a matter of personal preference.
So Down and Feather is offering useful tips for choosing the correct pillow, which helps in achieving restful and comfortable sleep that leaves you rejuvenated in the morning. When looking for a down pillow, keep these 10 tips in mind. Choose pillows that:
1. Complement the firmness of your mattress
2. Keep the spine in natural alignment
3. Allow for adjustment
4. Have the ability to fit the unique contour of the user
5. Support the different sleeping positions: Side, back, stomach
6. Support the head
7. Provide comforting tactile softness
8. Eliminate pressure points
9. Expand airways to ease breathing
10. Are hypoallergenic
Down and Feather Company offers luxurious, high quality feather pillows , down pillows , and goose down pillows. The pillows continuously respond to changes in sleeping position, allowing for ultimate comfort and relaxation. Additionally, if a pillow needs adjustment within 30 days of the date of purchase, Down and Feather Company will gladly make an adjustment in pillow firmness.
http://www.DownAndFeatherCompany.com is a luxury brand of down bedding with a passion for providing uncompromised quality. Down & Feather Company is located at 9595 Six Pines Drive Bldg 8, Level 2, Suite 8210, The Woodlands, Texas 77380 and can be reached via phone at 888-369-6263.
###