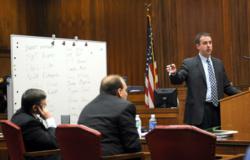 Federal Defense Attorneys need to practice at the highest levels of our profession. They need to have significant trial experience, aggression, and the ability to see their client's interests served. At Patituce & Associates we strive for that.
Cleveland, OH (PRWEB) May 06, 2011
Patituce & Associates announces that it has expanded its federal practice to include weekend consultations in addition to the vast array of other consultation options they offer.
Joseph Patituce, Managing Partner, says, "In deciding to hire a defense attorney to defend you, or a loved one, you need to be comfortable with them. I believe that it is improper to charge my clients to just talk to me. We stand by our reputation and our record, and we are confident that our clients are satisfied with our representation. It is important to ask your attorney about the types of cases they have handled, how many cases they have tried before a jury, and what courts they have practiced in."
Criminal defense attorneys from Patituce & Associates are well known for defending clients from charges ranging from murder, rape, internet sex crimes, fraud, and drug trafficking to robberies, fraud, insurance fraud, and assaults.
Many attorneys are fearful of practicing as federal defense attorneys because the cases typically involve investigations by the FBI, IRS, EPA, and other federal agencies. Federal defense attorneys from Patituce & Associates are completely comfortable handling any type of case in Federal Court regardless of who the arresting agency is.
Attorneys at Patituce & Associates are also trained on understanding Federal Sentencing Guidelines, an incredibly complicated system on which Federal Courts sentence defendants to prison or probation. Many attorneys lack the understanding, and experience, necessary to minimize the amount of prison time a defendant will face. Federal defense attorneys at Patituce & Associates have the experience and training necessary to protect any defendant's best interests.
Patituce & Associates is now open for Federal Defense clients 24/7. Patituce & Associates also represents individuals charged with federal drug trafficking, federal drug possession, federal drug conspiracies, federal internet crimes, white collar crimes, and federal crimes of violence. They represent individuals in the Northern District of Ohio, including: Cleveland, Lorain, Elyria, Sandusky, Akron, Canton, Mansfield, Portage, Ravenna, Youngstown, North Olmsted, Rocky River, Lakewood, Parma, Medina, Mentor, and Vermillion.
###