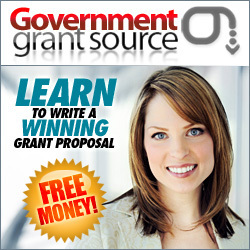 Hollywood, FL (PRWEB) September 1, 2009
Government Grant Source is pleased to announce that it is now open to the public. The membership site is designed to help people, communities and companies in need of financial aid find grants that suit their needs and aid them in getting those grants by providing tips and tutorials on the process.
Government Grant Source offers a comprehensive listing of not only grants being offered by the government, but also funding opportunities through private foundations and corporations. These are grants provided to both for-profit companies and non-profit organizations and the database is completely searchable to find the best grant options for your situation.
It is often easier to get specific government small business grants that are directed at specific groups, since these have less competition. The Government Grant Source offers access to grants and specialized funds. By using the search function available to members of the site, you can easily find the categories that fit you. The top 10 grants overall are also provided for your convenience.
The grant site doesn't stop at providing lists and links to a huge number of funding sources; which anybody can find elsewhere online, more importantly there are also comprehensive tutorials to help you get started in applying for grants. The Grant Writing Toolkit contains everything you need to know about writing grant proposals and cover letters. From giving a project summary and explaining the problem your organization or company faces to writing a project management plan and timelines, everything is explained. Samples of each step of the process are also provided so members can see exactly how to complete the step.
Most government grants get thousands of applicants, so it is very important that the application be correctly formatted. This is an area that is very well covered by the Government Grant Source, through a series of audio and video tutorials, along with visual resources and checklists that take you step by step through everything you need to know in order to apply successfully for the funding of your choice.
Government Grant Source also includes a members forum, which adds even more value to the site by allowing you to interact with others who are also looking for funding. The forum is one of the hotspots on the site, where you can learn from other members and offer each other support and advice.
The membership site is a quality resource for those looking to find government grants and funding from private companies. Not only does it offer access to a large, searchable database of listings, but it also teaches exactly how to get the grants you apply for, which is possibly even more valuable.
For more information on government grants and specialized financial funding opportunities, visit http://www.GovernmentGrantSource.net.
# # #