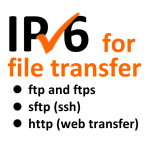 Serv-U FTP server is the undisputed technical leader in federal applications because of IPv6 support and multiple federal certifications.
Alexandria, VA (PRWEB) September 30, 2012
A September 30 deadline to have basic web and email services ready for IPv6 caused many federal agencies to scramble, but several who recently deployed Serv-U FTP server will rest easy, according to RhinoSoft, a leading secure file transfer vendor.
"When we rearchitected Serv-U FTP Server, modern technology like IPv6, 64-bit computing, mobile device access, and multiplatform deployments guided the design," said RhinoSoft President Mark Peterson. "Five years later over a hundred thousand of our FTP servers are in the field, and still our IPv6 implementation remains the fastest and most reliable on the market."
While RhinoSoft declined to publish a complete list of recent federal purchasers, it did note that the US Army recently issued an enterprise-level contract for Serv-U Gold.
"To help the US Army perform its many missions, Serv-U had to achieve the US Army's Certificate of Networthiness," said RhinoSoft VP Jonathan Lampe. "Having FIPS 140-2 cryptographic validation was helpful, but the quality of the entire Serv-U system was on trial."
While the company already claims federal clients from NASA to the Department of Homeland Security, it is not resting on its laurels. RhinoSoft recently published a six-minute video which shows its Serv-U FTP server being accessed over IPv6 with a beta edition of FTP Voyager.
"Next week we'll bring IPv6 to FTP clients and file transfer automation," said RhinoSoft Sr. Architect Doug Papenthien. "We just completed rebuilding our FTP Voyager technology, just like we rebuilt our Serv-U technology five years ago, and we expect it play a significant part in federal file transfers in the next decade."
RhinoSoft is the global leader in affordable file transfer, with more than 90,000 business customers, including nine of the Fortune 10, in 90 different countries. Its award-winning and US Army certified Serv-U FTP server software for Windows and Linux and FTP Voyager FTP client software support FTP, SFTP, FTPS and web-based HTTP/S transfers, while embracing emerging technologies such as mobile computing, IPv6, native 64-bit computing and UTF-8/Unicode internationalization.