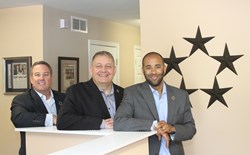 This year is FederalConference.com's second appearance on Inc. magazine's Inc. 500.
DUMFRIES, VA (PRWEB) August 27, 2013
FederalConference.com, an industry leader in government event planning solutions, has made Inc. magazine's 32nd annual Inc. 500 list, placing #2 in an exclusive ranking of the nation's fastest-growing private companies. The list represents the most comprehensive look at America's independent entrepreneurs, where future household names including Zappos, Zipcar, and Toys 'R' Us first made their mark. Additionally, FederalConference.com ranked #1 in Government Services, #1 in Virginia and #1 in the DC Metro area.
Visit: http://www.inc.com/inc5000/list/2013
Launched in 2006, service-disabled veteran owned and operated FederalConference.com offers a full suite of event planning solutions ranging from online registration to event staffing to onsite execution. With a team comprised of well-seasoned military and government event planning professionals, FederalConference.com has delivered over 5,000 events for clients including the Department of Defense (DoD), Department of Health and Human Services, the U.S. Department of Veteran's Affairs and the U.S. Army. FederalConference.com has become the leading event planning solution for the federal government, seeing 24,830% sales growth over the past three years.
"We are thrilled to be recognized in Inc. 500, and to be listed among such an impressive group of our peers," said CEO Paul Trapp. "The strides we've taken these past few years are a testament to our incredible team of talented employees, who provide event planning execution at an unparalleled level."
This year is FederalConference.com's second appearance on Inc. magazine's Inc. 500.
About FederalConference.com
FederalConference.com is an industry leader in event conference planning, offering a full suite of services including online registration, housing, graphic design & color printing, event marketing, staffing, video production, A/V equipment and management, and food & beverage, transportation and child care management. FederalConference.com delivers each event with the austerity, transparency and accountability demanded by our clients.
For more information visit http://www.federalconference.com.
About Inc. Magazine
Founded in 1979 and acquired in 2005 by Mansueto Ventures LLC, Inc. (http://www.inc.com) is the only major business magazine dedicated exclusively to owners and managers of growing private companies that delivers real solutions for today's innovative company builders. With a total paid circulation of 710,106, Inc. provides hands-on tools and market-tested strategies for managing people, finances, sales, marketing, and technology.
Visit Inc. Magazine online at http://www.inc.com/.
Inc. 500 Methodology
Companies are ranked according to the percentage growth of their annual revenue over a three-year period. To assess this, Inc. uses 2009 and 2012 revenues, a three-year growth period using 2009 as a base year for growth.