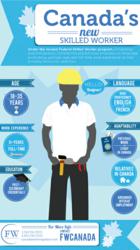 The new point grid will place higher emphasis on youth and language proficiency
Montreal,QC (PRWEB) November 20, 2012
In June 2012, the Canadian government announced a temporary suspension on all Federal Skilled Worker applications due to the overwhelming number of applications received. Under the old program, some applicants waited up to ten years for their application to be reviewed. In order to reduce the processing times and the backlog, the program was suspended so that it could be reworked in order to attract a different group of individuals.
Starting January 2013, the new program will begin and a new points system will take effect. The new point grid will place higher emphasis on youth and language proficiency. Under the new system, applicants will need to demonstrate a minimum level of proficiency in either English or French. To prove their proficiency applicants will need to undergo a language test. Citizenship and Immigration Canada will require an official IELTS or TEF score. The IELTS test is composed of four sections that test an individual's grasp of the English language, TEF is the equivalent test for French proficiency.
The requirement to provide a language test result may prevent individuals from applying right away. There are limited number of places at each language test and applicants may not be able to schedule a test for months. This creates a level of urgency to take the test now in order to have applications ready for the start of 2013.
"There is greater focus on language proficiency in order to ensure a smoother integration process for foreign workers" explains Marisa Feil, supervising attorney of FWCanada. "In the past the government has placed quotas on the FSW program, so hopeful applicants should keep that in mind and apply to take their language tests now" warns Feil.
The new point system is anticipated to attract individuals who will be prepared to work in the Canadian labor market, although this new program also has its critics. Some are fearful that the new language standards are set too high, preventing foreigners from obtaining permanent residency. Moreover, this new program might lead to an increased number of applicants from English speaking countries and reduce immigration from other countries like China.
The new FSW program has had a strict quota on the number of applicants (not visas) over the last few years, in order to reduce the amount of processing times. As the process is becoming harder, it is critical to ensure that the application process is well assembled and includes all the right documents. Applications that are missing documents will be returned and those applicants may not have time to resubmit before the quota is reached.
FWCanada can help assemble an application for the FSW program and ensure a smooth application process. As the suspension will be lifted in January 2013, start now and increase the chances your application will be considered.
About FWCanada:
FWCanada is a Canadian Immigration Law Firm which provides expertise in immigration services such as Temporary Resident Permits, Criminal Rehabilitation, Study Permits and Work Permits. Marisa Feil and her team ensure that each case is closely evaluated to determine the most relevant program. For more information, contact FWCanada at 1-855-316-3555.