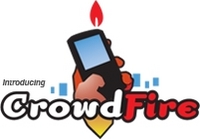 This level of collaboration and creativity based on live music experiences has never been done before
San Francisco, CA (PRWEB) August 20, 2008
Sausalito, CA, August 20, 2008 -- Federated Media Publishing (FM) and Outside Lands Music & Arts Festival today announced major additions to the CrowdFire experience. CrowdFire, an online destination as well as onsite pavilion at Outside Lands Music and Arts Festival, now has a full array of interactive tools for uploading, sharing and remixing music experiences. CrowdFire is now a complete 360-degree experience with both online and real world features offering pre, during and post-concert collaboration.
Remix
In addition to CrowdFire's core uploading and sharing functionality, members now have the ability to remix their photos, videos and audio with other fans' media into never-seen-before mashups. Remix your media. View an example remix here.
You Rock Contest
Sponsored by Intel, the "You Rock" contest asks members to upload their "rock & roll" moments - you're best friend's band, your little brother playing air guitar, you playing you're favorite rockin' video game - for a chance to win two tickets to Outside Lands 2009 and an Intel powered laptop. Enter to win.
Going Mobile
CrowdFire wants to make sure that you're up-to-date at all times. Members can sign up for Windows Live Alerts, download mobile schedules, and upload high-res photos, txt and sms directly into the media database for inclusion in the onsite CrowdFire screen experience. Become a member.
The Live Experience

Can't be there? Members will now have access to a downloadable desktop widget that will stream the CrowdFire live onto the desktop. Now you can be there even if you can't be there.
Have a question you've always wanted to ask your favorite artist? Members will also have the ability to ask questions live of Outside Lands artists via Windows Live Messenger.
"This level of collaboration and creativity based on live music experiences has never been done before," said John Battelle, founder, chairman and CEO of Federated Media. "The 'crowd' has always been an integral part of the live music experience, and with CrowdFire, we're creating a platform that allows the crowd to produce their own version of that experience. We've already seen an amazing influx of fan activity on the site with more and more people gathering everyday. The results will be truly unique, and we're proud to be a part of it."
About Federated Media
At FM, we believe great voices attract great audiences. We're in the business of supporting those voices by connecting them to great marketers, as well as providing a suite of services that let authors focus on what they do best: make compelling media. In so doing, we are creating federations of respected voices that prosper on their own terms. Current federations include Sports, Technology, Automotive, Business & Marketing, Media & Entertainment, Video Gaming, Graphics Arts, News 2.0, Lifestyle, Parenting and Green. For more information, please go to http://www.federatedmedia.net.
Product and service names mentioned herein are the trademarks of their respective owners.
Contact
Matthew DiPietro
Federated Media Publishing
415-332-6955
mdipietro @ federatedmedia.net
###