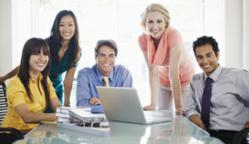 Those who succeed in the business world typically have qualities that transcend competence or intelligence
Tampa, FL (PRWEB) November 03, 2012
FPMG, a performance management firm, released two important findings regarding emotional intelligence: 1) it's vital to career success and 2) it's something that can be developed. This position was supported by a recent Forbes blog by Peter Ubel, a physician and behavioral scientist at Duke University, which opined that Starbucks baristas have more emotional intelligence than doctors due to training.
"If you've done any professional networking at all, you've probably heard this line: 'People like to do business with those they like and trust.' I believe this is true, and I also feel that those who succeed in the business world typically have qualities that transcend competence or intelligence," said Denise Federer, Ph.D., FPMG's founder. "This doesn't mean being inept or not very smart will get you far, but it does demonstrate the importance of emotional intelligence as a precursor of success."
Emotional intelligence is the ability to effectively use self-awareness and appropriate social skills to build consensus, manage people toward a common goal and in essence, be "liked." It's the X factor that can make an intangible difference for entrepreneurs or those seeking to climb the corporate ladder.
Most people are familiar with intelligence quotient (IQ), a measure of brainpower that changes very little after the teens. What may be new information is that emotional quotient (EQ) ranks higher than IQ—in first place—as a determinant of outstanding job performance.
Family businesses can benefit from knowing this by helping employees assess themselves based on the five dimensions that make up their EQ profile:

Self-perception—Self-regard, self-respect, confidence, actualization and emotional self-awareness
Expression—Communications skills such as assertiveness, showing your feelings and constructive criticism as well as how independent you are
Interpersonal—Participating in mutually satisfying relationships, showing empathy, understanding how others' feel, demonstrating social responsibility and seeing the broader picture
Decision-making—Problem-solving, controlling your impulses, delaying gratification and being objective
Stress management—Flexibility, tolerance, optimism, adaptability and ability to cope…a key predictor of successful people
It's important for people to know themselves—especially their strengths and weaknesses—and focus on the things they do well as a way to help them better understand the effect their behavior has on those around them, and why they're succeeding (or not) in their chosen career. The opportunity is also presented to address weaker areas, since it's possible to change EQ; emotional intelligence seems to be largely learned.
The following 10-step plan for developing EQ was created by Dana C. Ackley, Ph.D. and presented at her EQ Leadership Program:
1. Select the skill you want to improve.
2. Test your selection to ensure sustainable motivation.
3. Carefully define the behaviors to change, describing your current behavior and writing a measurable goal to create a vision of how you'll behave once you've improved in this area.
4. Create a plan to get to your goal.
5. Identify factors that will support and/or hinder your change.
6. Develop self-monitoring systems to assess your progress.
7. Identify potential sources of additional training, experience and information.
8. Develop feedback systems.
9. Develop self-reward systems.
10. Develop timelines.
"Think about individuals you know in 'people-oriented' professionals such as financial planning," Federer said. "Do those who are most successful have the most talent—or are they best at being able to relate to other people? Anyone can be a star performer by enhancing their EQ and making the power of emotional intelligence work for them."
About FPMG
FPMG is a Florida performance management consultancy dedicated to guiding successful people to be their best. Based in Tampa, we help you uncover the non-financial issues that impact the bottom line. FPMG offers consulting for family business problems, financial advisors succession planning, leadership development, and more.