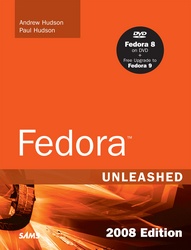 Our hope is that Paul and Andy's book will enable readers to become fully proficient with the distribution, and then we'll transition them to Fedora 9 as soon as the final version is released.
INDIANAPOLIS (PRWEB) March 10, 2008
Fedora Unleashed 2008 Edition, the latest addition to Sams' bestselling Unleashed book series, provides complete coverage of Fedora 8 and a DVD containing the entire distribution. For the first time, readers can also elect to receive by mail a free DVD Upgrade Kit for Fedora 9 - the software's next incarnation - and a corresponding eBook, rather than requiring purchase of an entirely new print edition.
The free Upgrade Kit will include everything users need to make the successful transition from Fedora 8 to Fedora 9: the complete binary Fedora 9 Linux distribution for Intel-based computers on DVD and the eBook Fedora 9 Kick Start, a thorough PDF guide to what's new in Fedora 9 and how to best install, configure, and troubleshoot it. The DVD by mail will be available to U.S. and Canadian addresses only.
Fedora Unleashed, 2008 Edition, written by Paul Hudson and Andrew Hudson, is organized into seven parts, covering 900 pages, and the bundled DVD enables most readers to install the operating system in less than an hour.
Fedora is a Linux-based operating system that is free for anyone to use, modify, and distribute. It is built by a worldwide community of developers known as The Fedora Project (http://fedoraproject.org/).
"Our main motivation in offering this free upgrade is to help our readers keep up with Fedora's frequent updates to its core distribution package - without having to buy a new 900-page book every six months," said Mark Taber, Sams associate publisher. "Our hope is that Paul and Andy's book will enable readers to become fully proficient with the distribution, and then we'll transition them to Fedora 9 as soon as the final version is released."
Online subscription to Fedora Unleashed, 2008 Edition is available through Safari Books Online: http://safari.informit.com/9780768680300. Online subscribers will be able to take advantage of the free Fedora 9 Kick Start eBook. The Fedora Project also publishes its own Release Notes: http://fedoraproject.org/relnotes and documentation: http://docs.fedoraproject.org/.
The new publishing model also will be applied to the next edition of Ubuntu Unleashed, (http://www.informit.com/title/0672329697) which will be written to Ubuntu 8.04 and is due out in Spring, 2008.
About Fedora Unleashed, 2008 Edition:
-- Substantially rewritten and includes several new chapters, including Chapter 4, "Command-Line Quick Start" (Fedora 7 Unleashed, authored by Hudson/Hudson, published in August, 2007)
-- Packed with screenshots to illustrate Fedora-specific graphical utilities
-- Fedora 8 book excerpt available for free download: http://www.informit.com/content/images/9780672329777/ samplechapter/0672329778_02.pdf
-- List Price: US$49.99; Pages: 960; Copyright 2008; ISBN 0-672-32977-8
-- purchase link: http://www.informit.com/store/product.aspx?isbn=0672329778
-- For more information on the Sams Unleashed Series, please visit: http://www.informit.com/unleashed
Additional Pearson open source resources:
-- Prentice Hall Open Source Software Development Series: http://www.informit.com/imprint/series_detail.aspx?ser=758172
-- The Negus Live Linux Series: http://www.informit.com/livelinux
-- OnOpenSource Author interview video podcasts:
http://www.informit.com/podcasts/ channel.aspx?c=1977eb71-4a34-42dd-a7d0-7952a08c527e
About the Authors
Andrew Hudson is a regular contributor to Linux Format magazine, the UK's largest Linux magazine. His area of expertise is Red Hat-based distributions, including Red Hat Enterprise Linux and The Fedora Project, having worked with the original Red Hat Linux since version 5.
Paul Hudson is a recognized expert in open-source technologies. He is Editor of Linux Format magazine, a professional developer, and full-time journalist for Future Publishing. His articles have appeared in Mac Format, PC Answers, PC Format, PC Plus, and Linux Format.
About Pearson Technology Group
With the most trusted and recognized brands in the computing arena, Pearson Technology Group (PTG) is the world's leading publisher of books and training materials focused on advancing the skills of technical, business and professional computing consumers. It is home to such renowned publishing brands as Addison-Wesley Professional, Adobe Press, Apple Certified, Cisco Press, New Riders Publishing, Peachpit Press, Prentice Hall Professional, and Sams Publishing. PTG is part of Pearson (NYSE:PSO), the international media company. Pearson's primary operations include Pearson Education, the Financial Times Group, and the Penguin Group. Learn more at http://www.pearson.com.
Long URLs in this release may need to be copied/pasted into your Internet browser's address field. Remove the extra space if one exists.
Optimization Document ID 52560141