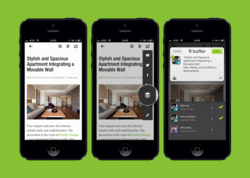 Being able to easily share on multiple social networks and schedule the delivery of each post is a big step towards better engagement
Palo Alto, CA (PRWEB) February 07, 2013
Feedly and Buffer, two Silicon Valley based startups are excited to announce the launch of a brand new, platform wide integration of the two products.
The goal of connecting both apps together is to give users a unique new way to discover and share articles, videos and pictures across the social web.
Feedly allows anyone to organize their favorite news feeds intuitively on any device, including a brand new iOS app, as well as Android and web versions. With Buffer integrated, it is now possible to share any article you are reading to multiple social networks at once. At the same time, sharing can also be delayed for optimal timing through Buffer and sent out well spaced out over the day when most friends and followers will see it.
The new Feedly with full Buffer support can be downloaded here.
The new direction for both products was largely driven by user feedback over the past months and a passion for a smarter way to use the web:
"Many Feedly users discover content to share with their social network. Partnering with Buffer will allow them to have the most efficient sharing tool available on the market and make the boundary between consuming and sharing seemless." - said Feedly's CEO, Edwin Khodabakchian. "Being able to easily share on multiple social networks and schedule the delivery of each post is a big step towards better engagement".
--
About Feedly
Feedly is a fast a stylish way to keep in touch with your favorite sites on all your devices. Available on iPhone, iPad, Android and on the web, Feedly was named one of TIME Magazine Top 10 Smart-Phone Apps of 2011. Over 3 million users trust Feedly to stay informed, entertained and inspired. Founded in 2008, Feedly is privately held and headquartered in Palo Alto, California. You can download Feedly at http://www.feedly.com.
About Buffer, Inc
Based in San Francisco, Buffer was founded in 2010 by Joel Gascoigne out of his bedroom in Birmingham, UK to help anyone make sharing to Twitter, Facebook, LinkedIn and other social networks easier and more efficient. Buffer has grown to over 500,000 users and 50 apps that have integrated the app and allow sharing to Buffer. Buffer is available for all major devices and platforms including iPhone, Android, BlackBerry, Chrome, Firefox and Safari. You can sign up at http://www.bufferapp.com