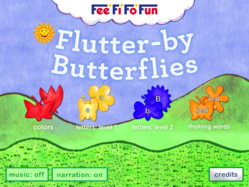 "I'm a father, a grandfather, I love art and I love the name FeeFiFoFun, so this project just seemed right for my drawing board," says Aldridge.
Los Angeles, CA (PRWEB) June 18, 2012
Emerging children's entertainment and publishing company FeeFiFoFun is pleased to announce the launch of its 'Flutterby Butterflies' universal app for iPhone, iPad and iPod Touch which is available for sale on iTunes in the Education category. Flutterby Butterflies is a multi-level matching game that teaches colors, ABCs and first rhyming and site words to early learners. It is animated to teach and delight children ages 18 months to 6 years.
Original art for the app by the legendary illustrator, Alan Aldridge, of Beatles fame who created the iconic Beatles Illustrated Lyrics; he's also the designer of the Hard Rock Café and House of Blues. Flutterby Butterflies brings "high pop art" to young children.
"I'm a father, a grandfather, I love art and I love the name FeeFiFoFun, so this project just seemed right for my drawing board," says Aldridge. Dubbed "His Royal Master of Images to Their Majesties the Beatles," by John Lennon, Alan Aldridge is also a Whitbred award winner for his classic children's book, Butterfly Ball.
Flutterby Butterflies engages children in a color filled world that is designed for playful learning. Co-developed with Night & Day Studios (Peekaboo Barn, Eric Carle's My Very First App, Caillou's World), the app features four levels of fun for different ages and abilities, including:

Color Matching: For the littlest users, learn your colors by matching butterflies to flowers
Letter matching Level 1: New pre-readers learn to identify and match letters
Letter matching Level 2: An added challenge, children match upper-case to lower-case letters
Rhyming words: For early readers, match three letter words that rhyme. Many of these are sight-words, which improve decoding skills, fluency and reading comprehension; nurturing little poets
Game play randomized so you'll never play the same game twice
Animated butterflies, blooming flowers, a giggling chipmunk, buzzing honeybees, a shaking tree and a laughing sun
Original music with a classical underscore
Matching games promote cognitive development:
Helps toddlers to develop problem-solving skills, fine motor skills requiring eye-hand coordination, color recognition, alphabet comprehension and identification (upper and lower case) and first sight words that rhyme
Pricing and Availability:
Flutterby Butterflies by FeeFiFoFun(R) is only $1.99 USD (or equivalent in any other currency) and is available worldwide on iTunes under Apps in the Education category.
FeeFiFoFun is a new brand in the world of children's educational entertainment and publishing. Founded in 2006 by three friends who are parents and also artists who are some of the creative minds behind Pink Floyd, Cirque du Soleil, Blue Man Group and Coldplay. The founders don't just love kids; they are big kids themselves.
For more information, visit http://www.feefifofun.com
Copyright (C) 2006-2012 FeeFiFoFun. All Rights Reserved. FeeFiFoFun(R) is a registered trademark of FeeFiFoFun, LLC. Apple, the Apple logo, iPhone, iPod and iPad are registered trademarks of Apple Inc. in the U.S. and/or other countries.