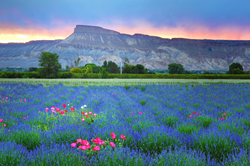 "Whether you're scheduling your visit with a specific event in mind or are searching for new Colorado experiences, head to Grand Junction."
GRAND JUNCTION, Colo. (PRWEB) April 18, 2019
It's a fact universally acknowledged that if you're searching for warmer weather in the spring and early summer, you should head to Grand Junction. While some parts of Colorado are still blanketed in snow in May, folks in Grand Junction are busting out the flipflops and hitting the trails (not at the same time, of course). If you're ready for warm weather, bluebird days and plenty of outdoor experiences, head to Grand Junction this spring…and stay for summer.
Feeling the Festival Season with Sports, Music, Aeronautics and Lavender
Alpine Bank Junior College Baseball World Series (JUCO)
May 25 - June 1, 2019
The Alpine Bank Junior College Baseball World Series (JUCO) has been a staple event in Grand Junction for more than 60 years, bringing together amazing young baseball players from across the country who are full of talent, commitment and enthusiasm. Get swept up in the highs and lows of America's favorite pastime with players, coaches and fans during this week of fun and lasting memories.
Country Jam
June 13 - 16, 2019
Billed as "The Can't-Miss Party of the Summer," Country Jam is a country-music lover's Mecca in the summer. For nearly three decades Country Jam has hosted the biggest names in country music amongst the picturesque, red rock studded landscape of western Colorado. The 28th edition of Country Jam features Luke Bryan, Sam Hunt, Little Big Town, Alabama and more of country's biggest stars. Combine that with a weekend full of camping with all your friends, and you've got the biggest party in Colorado.
9th Annual Colorado Lavender Festival
June 29, 2019
Breath in western Colorado's peaceful setting where snow-melt waters from the Rocky Mountains nourish the high-altitude farms at Colorado's only annual lavender festival. Enjoy a self-guided farm tour and marvel at how endless varieties of lavender thrive under in Grand Junction's dry climate and lean soils under clear blue skies. Attend an educational seminar or demonstration and browse an intriguing array of artisan products—it's a lavender extravaganza!
Grand Junction Air Show
July 27-28, 2019
It's a bird…it's a plane! The first airplane flight in Grand Junction took place on August 27, 1912 and the enthusiasm for flight hasn't waned since. Airplane enthusiasts of all ages will enjoy the high-flying, rip-roaring, speed-breaking action at the Grand Junction Air Show, featuring the U.S. Navy Blue Angels along with various air and ground performers, as well as interactive displays.
Everyday Activities that are Far from Ordinary
Don't wait for a festival to visit Grand Junction—there are thrills and unforgettable experiences around every twist and turn of the area's unique landscape. Just be sure to pack your adventurous attitude and the rest will follow.
The mighty Colorado River becomes a wet and wild playground in the summer and visitors can pick their mode of exploration. Rafting is a popular pastime, whether you're interested in a scenic float or a more rapid experience. To control your own craft, pick up a paddleboard and enjoy the feeling of riding the river with an elevated viewpoint. For those who feel a need for speed, sign up for a jet boat tour, an unforgettable experience in a truly unique craft.
For those who prefer land-based adventures, Grand Junction has you covered. Four-legged fans will enjoy the a one-, two- and three-hour horseback rides through the spectacular scenery of Colorado's canyons and viewing wild mustangs on a Wild Horse Sanctuary Tour. Looking to trade in hooves for tires? Grand Junction is home to amazing mountain biking, whether you're a beginner or expert rider - check out Desert Rat Tours for personalized itineraries in western Colorado. For motorized fun, MotoDiscovery provides dual-sport and adventure rental motorcycles that are well suited for the variety of incredible riding environments in Grand Junction and Adrenaline Drive Adventures has a full fleet of Polaris side-by-sides that will allow you to explore the extensive 4x4 terrain.
But there's no need for motors. Grand Junction area is a paradise for hikers of all skill levels, whether you want to take an afternoon stroll to marvel at the Colorado National Monument's magnificent red rock formations, try a more challenging hike like Crag Crest Trail on Grand Mesa or spend a few days exploring the area's state parks. The trails of Grand Junction have it all, from ancient petroglyphs to mountain summits. But it's not all about moving on two feet: Those towering red rocks, deep canyons and large boulders also make Grand Junction an incredible destination for rock climbers and canyoneerers; it's an entirely different view from the top.
So whether you're scheduling your visit with a specific event in mind or are searching for new Colorado experiences, head to Grand Junction.
For more information or to book your Grand Junction spring and summer vacation, visit http://www.visitgrandjunction.com.