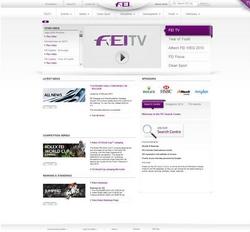 Lausanne, Switzerland (PRWeb UK) February 13, 2010
The FEI is pleased to announce the launch of the refreshed and renewed http://www.fei.org, designed to provide greater flexibility in terms of content, display and usability.
A new hub for all information relating to FEI disciplines, series and events in terms of results and rankings, dates and locations, as well as qualification requirements. You will also find all the information you need with regards to FEI Standards, Profile and Governance as well as contact details for all FEI Members. The Rules and Regulations governing the sport are all easily accessible in one location as is all the documentation for Officials & Organisers – now with their very own dedicated section. If it's the history of the organisation, the latest breaking news and videos from FEI TV, or new tools for the media – then http://www.fei.org is the place to go.
FEI Search Centre is continually being upgraded with new functionalities.
Having greater flexibility in terms of content display was one of the main objectives of the new website in order to better reflect and promote the many initiatives, major events and campaigns happening around the world, such as Clean Sport, the FEI Year of Youth and first ever Youth Olympic Games, the FEI Awards and the Alltech FEI World Equestrian Games to name but a few.
"The new site goes live today, but it is by no means final and will continually evolve to meet the needs of the FEI Family and equestrian fans around the world. There are a number of updates scheduled over the coming weeks, and we hope these will provide the user with even greater ease when visiting the site and will also entice many of you to discover and learn about new events, disciplines and opportunities around the world," commented Alex McLin, FEI Secretary General.
Media Contact:
Malina Gueorguiev
FEI Press Manager
malina.gueorguiev(at)fei(dot)org
+41 78 750 61 33
###