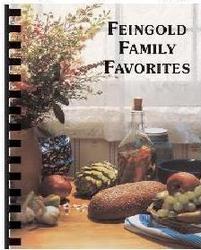 Why Your Child Is Hyperactive
Riverhead, NY (Vocus) July 30, 2009
As more and more families use nutrition and changes in diet to help their ADHD children, they are seeking out tried-and-true recipes to add healthy variety to their meals. The Feingold Association of the United States, a non-profit organization dedicated to helping parents and professionals since 1976, announces a new recipe book titled "Feingold Family Favorites." The recipes are free of the additives that research has shown triggers many behavior, learning and health problems. The book is also designed to help those who need to avoid natural salicylates, found in many fruits and some other foods, as well as in aspirin. The Feingold® Association website is rich with medical studies that support diet therapy to help with asthma, depression, earaches, conduct disorder, eczema, hives, headaches, migraines, learning problems, allergies, ADD and ADHD and learning difficulties. Additionally, school administrators, parents, therapists and other professionals who advocate for children will find a section on the website dedicated to school nutrition containing articles designed to help improve school food.
In the new "Feingold Family Favorites" recipe book Feingold volunteers offer suggestions for kid-friendly school lunches, party ideas, and simple ways to prepare for trips and ways to find the best restaurant foods. The inclusion of snacks and desserts reflects that fact that the Feingold Diet does not cut out favorite foods, but simply shows families how to find the things they enjoy in a more natural version. It is available from the Feingold Association (800) 321-3287 and via their web site http://www.feingold.org. The cost of the cookbook is $15.00 plus $3.50 for postage. People can also send a check to FAUS, 554 East Main Street, Suite 301, Riverhead NY 11901.
The size of the book is 8 1/2 x 6 and it contains 300 recipes for all types of food, plus tips on lunches for kids, party ideas, enjoying holidays with natural food, as well as strategies for trips and eating out. All of this is consistent with the Feingold Diet, which is explained in the book.
The Feingold Association was named after Ben F. Feingold, M.D. who was Chief of Allergy at Kaiser-Permanente Medical Center and who later wrote a book titled "Why Your Child Is Hyperactive" published by Random House in 1974. Dr. Feingold used a diet free of additives for treating skin conditions and asthma related to aspirin-sensitivity and discovered quite by accident the benefits of reducing or eliminating hyperactivity. After 8 years of clinical research his findings were presented at an American Medical Association meeting and later published in medical journals. The AMA arranged for press conferences around the country and sent him out to share this information with the public.
For those who need to further restrict their diet because of food allergies, sensitivities or celiac disease, the Feingold Association suggests Lisa Lundy's Super Allergy Girl™ Allergy & Celiac Cookbook, which is a gluten-free, dairy-free, egg-free, peanut-free, treenut free and other allergen free cookbook. Lundy's book is available at http://www.TheSuperAllergyCookbook.com where you can find free tip sheets, white papers, recipes and videos designed to help people with special diets.
# # #