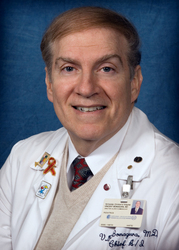 We need to train true academic doctors who will be able to advance the field
Manhasset, NY (Vocus) August 21, 2009
The Schneider Children's Hospital (SCH) campus of The Feinstein Institute for Medical Research has been awarded a prestigious $795,000 federal grant to hire and train the next generation of immunologists who will investigate diseases of the immune system to provide cutting-edge care to patients.
The new federal "T32" training grant, to be funded over the next five years by the National Institute for Allergy and Infectious Diseases, will allow Vincent Bonagura, MD, chief of pediatric immunology at SCH and a researcher at the Feinstein Institute, to train physicians to understand the basic immunobiology of the immune system and how it is involved in causing or preventing a myriad of diseases.
"This T32 grant, the first ever received by the North Shore-LIJ Health System, is significant because it's a national recognition of the major clinical and research expertise that Schneider Children's Hospital and the Feinstein Institute have in the area of immunology," said Arthur Klein, MD, senior vice president of children's services for the North Shore-LIJ Health System, and the executive director and chief of staff at SCH.
Physician/scientists selected for the new program will be able to spend time in any of the Feinstein Institute's various immunology labs. "They will have access to pediatric and adult patients who receive care for immunology-related diseases at Schneider Children's Hospital, North Shore University Hospital and LIJ Medical Center, along with patients cared for in other subspecialties that are related by the common language of immunology," said Dr. Bonagura. He added that there are an increasing number of immune-related disciplines -- including allergy, rheumatology, infectious diseases, cancers and autoimmune diseases -- that are in need of physicians and scientists trained in basic-science immunology who can expand our knowledge of the immune pathogenesis of these diseases, and provide novel and more effective therapies to treat patients.
"We need to train true academic doctors who will be able to advance the field," said Dr. Bonagura. The physician/scientist can also extend their training by applying for a fourth year within the Elmezzi Graduate School of Molecular Medicine (http://www.elmezzigraduateschool.org). The graduate school, part of the Feinstein Institute and the North Shore-LIJ Health System, trains physicians interested in becoming scientists as well. At the end of three years of training in the immunology physician/scientist program, students can earn a PhD degree in molecular medicine by completing a fourth year in the program.
Candidates for the immunology physician scientist training program will be drawn from a yearly complement of more than 110 pediatricians and internists applying for fellowship training in Allergy and Immunology Residency Training Program at Schneider Children's Hospital and LIJ Medical Center.
In addition to being chief of the Division of Allergy and Immunology at Schneider Children's Hospital, Dr. Bonagura is associate chair of pediatrics at SCH, and is currently a director of the American Board of Allergy and Immunology and Member of the American Board of Pediatrics. Betty Diamond, MD, director of the Feinstein's Center for Autoimmune and Musculoskeletal Diseases will be the co-director of the T32 Immunology Physician Scientist program. Dr. Diamond is an expert on rheumatic diseases, and focuses her attention on the brain problems associated with lupus.
The federal training grant fits with the mission of the Feinstein to discover and understand the causes and underlying mechanisms of human diseases, and to rapidly translate this information into diagnostic and therapeutic solutions for patients. Dr. Bonagura's lab focuses on human host defense mechanisms made against human papillomaviruses.
Contact
Jamie Talan
Science writer-in-residence
516-562-1232 (w) or 631-682-8781 (c)
###