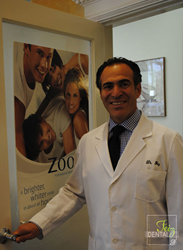 ...children should never be allowed to sleep with [sippy cups], as the constant exposure of such drinks to teeth is a leading factor in childhood tooth decay
Los Angeles, CA (PRWEB) February 23, 2016
A news article published February 10th on Alabama Newscenter highlights some general tips parents can take advantage of when considering children's oral health. By limiting snack frequency, using sippy cups only at meal times, and assisting their kids with brushing teeth for a full two minutes, parents can greatly reduce the risks of childhood tooth decay. According to Dr. Farzad Feiz, the head dentist at Calabasas Dental Group and California Dental Care, this information is vital for all parents, and adds that, good and healthy habits established at an early age are critical in maintaining good oral health throughout adult life. Furthermore, according to the doctor, regular dental visits are essential for oral hygiene upkeep because even young children may have symptoms of tooth decay. Additionally, the practice notes that, when it comes to sugary beverages in sippy cups, children should never be allowed to sleep with them, as the constant exposure of such drinks to teeth is a leading factor in childhood tooth decay. The doctor outlines some additional ways families can improve the dental care of loved ones:

Set household hygiene times – The more often families brush and floss together, the more likely their children will go on to maintain these habits independently, notes Calabasas Dental Group and California Dental Care. Once a routine is set into place and upheld by all members of the family, it becomes a lot more difficult to neglect it in the future, the dental clinics note. Additionally, parents should assist young children in brushing and flossing until the youngsters reach age six or seven and can carry out these routines independently.
Sport safety – Because children and teenagers who play recreational sports such as baseball and basketball are at a higher risk of powerful blows to the face, fielding masks and custom mouth guards are recommended, the clinic notes. When baby teeth are still present, parents can purchase boil-and-bite mouth guards which can be reformed as new teeth emerge and old ones are lost. The clinic advises that these guards should be cleaned as often as the child brushes his or her teeth, to prevent the potential buildup of plaque or bacteria.
At Calabasas Dental Group and California Dental Care, Dr. Feiz and his team take pride in making patient care the highest priority. For more information about the excellent dental services that Dr. Feiz and his team provide patients at their dental clinic, interested readers can call their Calabasas office at (818) 660-0731, their West LA location at (310) 955-4008, or visit the dental center online at http://www.FeizDental.com.