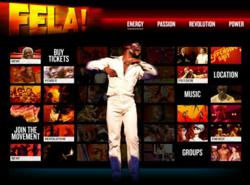 FELA!, produced by Shawn 'Jay-Z' Carter, Will & Jada Pinkett Smith, and Stephen and Ruth Hendel, is currently on the North American leg of its tour, as TicketHunterOnline gives a 20% Ticket reduction...
Los Angeles, CA (PRWEB) October 05, 2012
The Tony Award winning musical "FELA!"has made its way all the way from Broadway to 80 different cities across America. Produced by highly notable names such as Shawn Carter "Jay Z", Will Smith, and Jada Pinkett Smith. TicketHunterOnline announces a large 20% price reduction on all 2012-2013 FELA! Musical tickets across the country with promo "FELA".
FELA! is a true story about a Nigerian musician, Fela Kuti, whose afrobeats influenced an entire generation. This is not your typical Broadway musical, as its unique artistic flavor lead the production to 3 Tony Awards - and one of the largest American tours to date.
The musical is a provocative hybrid of dance, theater and music that explores the extravagant and rebellious world and life of Afrobeat legend, Nigerian musician and Human Rights activist Fela Anikulapo-Kuti. Firebrand, iconoclast, brilliant composer – Fela used his extraordinary music as a vehicle to express his disenchantment with the military regimes in his native Nigeria. Fela's pioneering music and soulful Afrobeat rhythms (a blend of jazz, funk and African rhythm and harmonies) also ignited a sea of change in 20th century music. FELA! is a triumphant tale of courage, passion and love, featuring Kuti's captivating music and the visionary direction and choreography of fellow Tony-Award winner Bill T. Jones.
Inspired by his mother, a civil rights champion, Kuti defied a corrupt and oppressive military government and devoted his life and music to the struggle for freedom and human dignity. Throughout his life, he paid a steep price for his courage in the face of powerful and implacable enemies with numerous arrests and countless beatings.
Fela's legacy and his music, that is now available globally, was a true testament of incredible courage in the face of opposition. His message of transparency, honest government and justice for all is still as relevant today as it was four decades ago – in Nigeria and globally.
During its critically acclaimed, hugely successful run on Broadway FELA! was praised by Ben Brantley of The New York Times exclaiming "There should be dancing in the streets. There has never been anything on Broadway like this production." FELA! has been hailed as "an exuberant celebration" by the Associated Press, "an ecstatic phenomenon" by Time Out New York and "one of the most original and exciting shows" by The New York Daily News.
FELA!, produced by Shawn 'Jay-Z' Carter, Will Smith & Jada Pinkett Smith, and Stephen and Ruth Hendel, is currently on the North American leg of its tour- with upcoming shows in Detroit, Charolotte, Miami, Schenectady NY, Tuscon AZ, Los Angeles CA, Dallas TX, Seattle and more. All tour dates, in addition to FELA! tickets are to be referenced at TicketHunterOnline.com. Use promo "FELA" for a 20% price reduction.