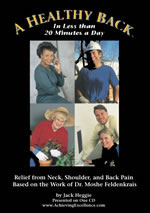 The thing that makes the lessons in A Healthy Back so special is that they get to the root of the problem. -Al Wadleigh, GCFP
Longmont, CO (PRWEB) April 15, 2012
Prolonged sitting at the computer or work desk has become our generation's new occupational hazard. According to a study published in the American Journal of Epidemiology, Americans spend more than 54% of their time in sedentary behavior. This excessive sitting, whether in front of the computer or the TV, has led to an increase in chronic back and neck pain. Approximately 80% of Americans, Lesley Alderman claims in a New York Times article, suffer from back pain during the course of their lives. In recent years, numerous remedies, from treadmill desk combos to physical therapy and analgesics, have been offered as partial solutions to the health risks associated with excessive sitting. Of these remedies, Jack Heggie's Healthy Back approach, using the Feldenkrais Method, shows a great deal of promise.
Heggie's four-lesson A Healthy Back audio (CD or MP3), available at The Feldenkrais Store, provides the listener with the tools to increase his range of motion and flexibility while reducing the stress and pain caused by prolonged sitting. The customized Feldenkrais movements outlined in the audio program allow the user to overcome the blocks and interferences created by habit. Through gentle and repeated exercises, the listener learns to sit in ways more natural to the body. He trains his neural and somatic systems to make the automatic adjustments that will alleviate stress on pressured discs and fatigued muscles.
All of the exercises are performed while sitting and may be easily practiced at work. "The thing that makes the lessons in A Healthy Back, so special," states Al Wadleigh, a Guild Certified Feldenkrais Practitioner®, "is that they get to the root of the problem. Once you start suffering from back discomfort, the typical response is to address the pain with stretching, a pain reliever, or help from a health care professional." Most of the measures pursued, short of surgery, are just temporary, and as the root condition deteriorates to a chronic malady, even massage and spinal adjustments may not be enough to restore the individual. The Feldenkrais exercises in A Healthy Back are specifically developed to correct the underlying problems in the way you sit and move unconsciously. They encourage the body, states Heggie, "to cultivate ease."
We spend the majority of our waking hours in a sitting position. Whether we are driving our cars, reading emails, entering data, watching TV or writing reports, we are all looking at chronic back problems somewhere down the line unless we learn to sit with flexibility. The Feldenkrais Lessons in A Healthy Back help the individual to re-educate his spine, to access a natural ease and flexibility. It is an indispensable tool for chronic sitters who want to avoid or eradicate chronic pain. A Healthy Back may be purchased at The Feldenkrais Store.