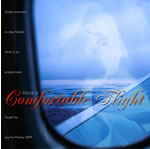 "This CD saved my trip to London. I listened to it on the long flight across the ocean, and my lower back did not freeze up on me, as it has in the past," Totsie.
Longmont, CO (PRWEB) October 31, 2012
Lavina Plonka's CD addressing stress for airplane travelers is now available at the Feldenkrais Store — just in time for holiday commuting! The audio program, entitled Comfortable Flight, provides easy Feldenkrais exercises designed to alleviate two of the most common problems for air-travelers: sore joints and muscles, and flight anxiety.
The body just isn't designed for the long hours of cramped, motionless sitting required for air travel, states Plonka, a Guild Certified Feldenkrais Practitioner(cm). Sitting in such conditions "often leads to mounting tension in the shoulders, neck and skeleton…and if flying also causes anxiety, you've got a double wallop of stress." People on long holiday or commuter flights often take hours to recover from their travel.
The Feldenkrais lessons on Plonka's CD enable travelers to arrive at their destinations feeling fresh, and with their accustomed, or better, mobility. The exercises involve small, subtle movements which are not likely to be noticed by other passengers. Because the exercises are constructed to work directly with the nervous system in delicate ways, they send a message to the body, and the body, in turn, "remembers how to let go."
"This CD saved my trip to London." states Totsie. "I listened to it on the long flight across the ocean," and my lower back "did not freeze up on me," as it has "in the past." Colleen also found the CD helpful while motoring across country with her husband. "I played the CD each time I got in the passenger seat," she asserts. "It helped my back and stiffness immensely."
Plonka's CD is just the right length for playing on the airplane, and includes sections on releasing tension from the neck and shoulders, releasing tension from the pelvis, diminishing restriction and tension in the hip joints, decompressing and relaxing the spine, calming the nervous system, easy breathing, and tuning into the language of the body.
All of these lessons combine to give the listener a new repertoire, a new range of choices for his body. They are a way of fine-tuning. The person listening to the CD develops a sort of "sixth sense of kinesthesia," Plonka explains. By becoming aware of the body's subtle movements, the listener can become more talented in his motions, much like the way a chef can become more discriminating in his sense of taste. It is this new talent, this new way of choosing between, and using, the smallest of movements, that allows the traveler to have a relaxed and pleasant journey even in the most crowded of conditions.
Lavina Plonka's, Comfortable Flight, may be purchased at the Feldenkrais Store on CD or MP3.