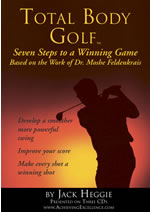 Their injuries and slow rate of improvement come from trying to power their swings through, rather than using their muscles and skeletal structure in the most efficient way," states Al Wadleigh, Guild Certified Feldenkrais Practitioner®
Longmont, CO (PRWEB) May 13, 2012
Golfers are renowned for their focus, tenacity, and patience. They will spend days on the golf course, trying to improve their par. They will invest in more expensive clubs, hire pros to coach them, and caddies to advise them - all in the pursuit of that elusive better game. Sometimes the improvement comes painfully slow, and, worse, sometimes the road to improvement is fraught with injuries, from the tendonitis and torn meniscus, to the sprained backs and golfer's elbows, to which golfers are prone. "Their injuries and slow rate of improvement come from trying to power their swings through, rather than using their muscles and skeletal structure in the most efficient way," states Al Wadleigh, Guild Certified Feldenkrais Practitioner® and the owner of the Feldenkrais® store.
Wadleigh's analysis is supported by the American Orthopedic Society for Sports Medicine. A 2008 article, written by an orthopedic society writer, advises that many golfing injuries "occur as the result of poor swing mechanics." Whether the injuries are caused by a shortened extension of the spine, a limitation in the rotation of the hip, or by over-swinging, they limit the golfer's ability to play, and their under-lying causes limit the golfer's ability to play well. Wadleigh has two products available at his Feldenkrais® Store, that will help the golfer overcome the mechanical impediments to a superlative game. The first is The Effortless Swing, a CD collection by Bonnie Kissam. The second is Jack Heggie's Total Body Golf CD collection.
These two products utilize the Feldenkrais Method® to instruct the golfer in ways to eradicate old, inefficient habits by making the mind and neuromuscular system aware of better and more structurally sound ways to move. The result is a golfer who swings accurately, with grace and power, but who also uses very little effort to achieve peak performance.
"The holy grail of the golfer," states Bonnie Kissam, "is the effortless swing." "It is attained in that moment when you feel a oneness with yourself, the ball and the club." In her CD collection, The Effortless Swing, Kissam teaches the golfer how to reach that swing easily and consistently. A golfer herself, Kissam has been teaching movement in kinesiology for over 30 years and has been helping golfers improve their game, through workshops and tutorials, for over a decade. Her learning theory is to take the golfer away from the "whole action of the swing, so that he can give attention to the flow of movements for each individual skill in small, quiet ways." When the golfer absorbs these lessons and applies them to his swing, he finds that his "alignment, balance and weight shift" has been improved for a more accurate and powerful swing.
I've "noticed big improvements in both my scores and my enjoyment of the game. I'm playing some of the best golf of my life without trying hard at all," states Robert M. a golfer from Tennessee after going through Kissam's Effortless Swing Program. B.T., an insurance executive, states that Kissam's tutoring in "body awareness" really helps him apply what he'd learned from his golf lessons. This whole process, this simple way to better golf, only takes about "20 minutes a day for 10 days," Kissam states. Most golfers, who spend hundreds of hours every summer practicing on the course, would find that a very efficient use of their time. Kissam's CD collection may be purchased at The Feldenkrais® Store.
There are seven awareness exercises in Jack Heggie's Total Body Golf CD collection. The purpose of each, Heggie states, is "to get the whole body involved in the most efficient way for each movement." As the body assimilates each new and more efficient movement, that "movement becomes a permanent part of its repertoire, and may be used naturally in the golfer's swing. "Ease of motion," is the hallmark of most experts," Heggie says, and his system of lessons in Awareness Through Movement® will help the golfer achieve "a balanced, centered and more powerful swing, a swing that will lead to the elegant shots that characterize the genuine expert." Heggie's CD collection may be purchased at The Feldenkrais® Store.