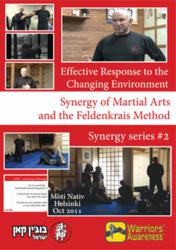 "The ultimate value in an exercise, lies in the action your body will perform spontaneously, without conscious effort, long after you have forgotten how, when and where you learned it."
- Dr. Moshe Feldenkrais
Longmont, CO (PRWEB) July 10, 2012
Al Wadleigh, owner of the Feldenkrais Store, proudly announces the arrival of Moti Nativ's latest DVD in the Synergy Series. Nativ's new DVD, entitled "Effective Response to the Changing Environment," picks up where his previous DVD, "Dynamic Stability," left off, and offers a unique blend of martial arts with the Feldenkrais Method®.
Moti Nativ leads the Israeli Bujinkan Dojo and is proficient in Budotaijutsu/Ninjutsu, Judo and Krav Maga. He studied the Feldenkrais Method® in the 1990s, focusing on Dr. Feldenkrais' own work in the area of martial arts. Using the heightened sense of awareness employed in the Feldenkrais Method®, Nativ teaches the martial arts student to gradually build on what he knows in order to expand and incorporate more efficient and powerful ways of moving. Through repetition, these new ways of moving become accessible to the unconscious. "The ultimate value in an exercise," states Dr. Feldenkrais in his "Hadaka-Jime: The Core Technique for Practical Unarmed Combat," "lies in the action your body will perform spontaneously, without conscious effort, long after you have forgotten how, when and where you learned it." It is this inner, incorporated knowledge that the warrior relies on to repel "an unforeseen attack, smoothly, swiftly, and in the most efficient way." And it is this inner, incorporated knowledge that Nativ leads the viewer of his DVD to acquire through his lectures, Awareness Through Movement® Lessons, and practical martial art applications.
In Effective Response to the Changing Environment, Nativ teaches the student to incorporate a dynamic stability which will allow him to orient and reposition his body in a way that gives him access to immediate redirection. He hones the student's ability to be aware of the space around him and to efficiently defend himself within the changeable parameters of movement, timing, velocity, effort, range and direction. He shows the student how to access energy and generate power through controlled movement. He smoothly transitions the student from Awareness Through Movement Exercises to defensive postures and counter attacks. The culmination is a student who can swiftly respond to his changing environment and protect himself with effortless, confident action.
Effective Response to the Changing Environment, and Dynamic Stability (the preceding DVD in the Synergy Series), are significant additions to the martial arts, Feldenkrais Method®, and mindfulness oeuvre. They provide ground-breaking, insightful benefits for martial arts teachers, Feldenkrais Practitioners®, and students of movement and meditation. Both DVDs available at the Feldenkrais® Store.