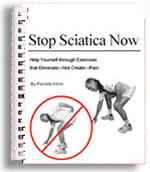 Sciatica is not a disease, but a collection of symptoms frequently resulting from a less than ideal use of the body.
-Pamela Khim
Longmont, CO (PRWEB) November 21, 2012
Stop Sciatica Now, by Pamela Kihm, is available now at the Feldenkrais Store. An article published by the Public Health Services Agency of Stanislaus County, California states that "at least 80 percent of the world's population suffer lower back pain, with or without sciatica, at some time in their lives,".
Symptoms of sciatica may range from a mild tingling in the leg and foot, to excruciating pain radiating from the lower back to the buttocks, leg and foot. The symptoms may last for one to two weeks, or for years. For patients who suffer from sciatica for a longer period of time, the pain can be lifestyle altering.
In her break-through book, Stop Sciatica Now, Pamela Kihm, a Guild Certified Feldenkrais Practitioner(cm), offers gentle, effective ways to provide relief from sciatica. "Sciatica," states Kihm, "is not a disease, but a collection of symptoms frequently resulting from a less than ideal use of the body." By learning how to move with skeletal awareness, and how to reposition themselves so that the sciatic network is not constricted, the book's readers can move away from pain, and into a broader range of movement and flexibility.
The recommendations and exercises in Kihm's book are based on the Feldenkrais Method(r) developed by Moshe Feldenkrais. Feldenkrais, a physicist and engineer, created the Feldenkrais Methodology in the late 1950s, in an effort to address his own painful knee problems. Since then, the Functional Integration(r) and Awareness Through Movement(r) Lessons he developed have helped thousands to overcome physical injuries and learn to move in more efficient, graceful and organized ways. Kihm has adapted the Feldenkrais work to focus specifically on sciatica issues.
Her book contains a discussion of the causes of sciatica and outlines a series of Feldenkrais exercises to retrain the neuromuscular and skeletal systems to operate in ways which will not aggravate the sciatic nerves. The book, in addition, provides exercises to alleviate sciatic pain and describes the best ways to perform various functions such as sitting, walking, driving, biking, and gardening in a stress free manor.
Kihm indicates that the most simple adjustments in one's daily pattern can make a difference with sciatica pain. Robert G., a truck driver from Ohio, read her book when he was experiencing so much pain from sciatica, that he thought he'd have to look for another job. Three weeks after following the recommendations in Kihm's book, Robert says he "got off [his] lift truck at work pain free, which [he] thought would never happen."
Kihm's, Stop Sciatica Now, provides a profoundly subtle way to diminish lower back and leg pain, without drugs, and without surgery. It is currently available for purchase at the Feldenkrais Store.