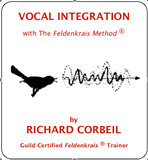 "The Feldenkrais Method®, is particularly suited to helping the vocalist learn and reach new levels of performance."
-Al Wadleigh, GCFP
Longmont, Co (PRWEB) August 15, 2012
The Feldenkrais Store recently expanded to include Feldenkrais® material on voice and performance. "The best singer in the world is still a learner and must be his own master," wrote the seventeenth century singer and teacher, Pier Francesco Tosi. "And the Feldenkrais Method®," states Al Wadleigh, Guild Certified Feldenkrais Practitioner(cm) and owner of The Feldenkrais Store, "is particularly suited to helping the vocalist learn and reach new levels of performance. This is because Feldenkrais Awareness Through Movement Lessons help the vocalist discover and make subtle adjustments in his neuromuscular and skeletal systems that are uniquely beneficial to him." The student, through guided exploration and observation, essentially becomes his own teacher. He learns what works for his own optimum performance.
In Vocal Integration with the Feldenkrais Method, one of the two voice-related products offered by The Feldenkrais Store Richard Corbeil guides the student through a series of lessons designed to help the vocalist by "reprogramming the neuromuscular patterns that are the building blocks of vocal functioning." In this set of four CDs, Corbeil shows the student how to improve and modulate air flow by helping him to sense the connection between the lower back, abdomen, ribs, chest, shoulders, and lungs. He addresses the important connection between the root of the tongue and the vocal folds, and shows the vocalist ways to use the larynx more efficiently. He also provides lessons to help the student color his tone and adjust the crucial timing and coordination between the lips, tongue, jaws and throat in relation to the passage of air.
Richard Corbeil is an Early music Singer, voice teacher, and Guild Certified Feldenkrais Practitioner. His CDs are the culminating product of over twenty years of experience in Feldenkrais, and in teaching and performing.
Singing with Your Whole Self: The Feldenkrais Method and Voice, the other performance-related product offered by The Feldenkrais Store is written jointly by Samuel H. Nelson and Elizabeth Blades-Zeller. Elizabeth Blades-Zeller holds a Doctorate in Musical Arts, and is the Director of Opera at the Heidelberg College in Tiffin, Ohio. Samuel H. Nelson is a Guild Certified Feldenkrais Practitioner and has taught Awareness Through Movement Lessons since 1985.
Singing with Your Whole Self is a handbook presented in discrete lessons created to help the student address whatever problems are most paramount. Each lesson, whether it covers the mechanics of breathing, improving balance, increasing vocal power or enhancing tone quality, revolves around improving the singer's overall performance. The Feldenkrais Method, the authors state, "helps the vocalist become aware new options "that allow the nervous system to choose better ways to accomplish a function." In this lucid, easy-to-follow book, the singer may find a path to shed unconscious habits and overcome the barriers that detract from the quality of his performance.
Singing with Your Whole Self and Vocal Integration with the Feldenkrais Method may be purchased from The Feldenkrais Store.