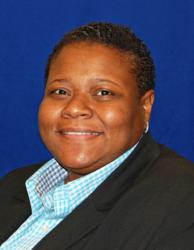 The Maricopa Community Colleges are focused on ensuring the success of all students, and Ms. Ganther will serve an important role in our Student Success Initiative and all aspects of student affairs. --Dr. Maria Harper-Marinick
Tempe, AZ (PRWEB) August 01, 2012
Felicia L. Ganther has been named Associate Vice Chancellor for Student Affairs at the Maricopa Community Colleges. Ms. Ganther most recently served as Executive Director for Student Life at the College of Lake County, Grayslake, IL. She also served as an Adjunct Instructor for Speech, Interpersonal and Group Communication courses and as a certified mediator for the Center for Conflict Resolution, Chicago, IL.
"I am very pleased to announce the appointment of Felicia Ganther to this key position," said Dr. Maria Harper-Marinick, Maricopa's Executive Vice Chancellor and Provost. "The Maricopa Community Colleges are focused on ensuring the success of all students, and Ms. Ganther will serve an important role in our Student Success Initiative and all aspects of student affairs."
A specialist in student retention, Ms. Ganther has received the National Outstanding First-Year Advocate Award from the National Resource Center for the First-Year Experience, as well as a Proclamation from the Illinois State Senate for her work with the retention of first year students.
A native of Los Angeles, CA, Ms. Ganther holds Bachelor of Arts and Master of Arts degrees from Norfolk State University in Virginia. She also holds a Juris Doctorate from The John Marshall Law School, Chicago. She is now completing course requirements for a Ph. D. in Business Administration from Northcentral University of Arizona.
The Maricopa County Community College District is one of the largest community college districts in the nation.
It includes 10 regionally accredited colleges – Chandler-Gilbert Community College, Estrella Mountain Community College, GateWay Community College, Glendale Community College, Mesa Community College, Paradise Valley Community College, Phoenix College, Rio Salado College, Scottsdale Community College and South Mountain Community College. The District also includes the Maricopa Skill Center, Southwest Skill Center, several satellite campuses and business/industry; technical and customized training institutes.