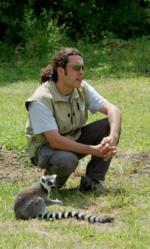 Nashville Zoo is a 'purrfect' choice for this year's convention. The clouded leopard cubs and our international guest Gregory Breton are guaranteed crowd pleasers
(PRWEB) April 30, 2013
One of the most anticipated gatherings for folks involved with wild felines will be June 6 through 8 in Nashville, Tennessee where the Feline Conservation Federation (FCF) will celebrate its 42nd Convention. The annual event attracts a mix of feline owners, handlers, breeders, and exhibitors that work at zoos, sanctuaries, nature centers, and traveling shows, as well as researchers in the field, veterinarians, and plenty of feline enthusiasts.
The three-day feline extravaganza is preceded by two FCF developed course offerings on Wednesday, June 5th at the Radisson Hotel at the Nashville Airport. FCF certified instructors teach both a Basic Wild Feline Husbandry Course and also, at the same time another learning opportunity is offered, a comprehensive Wildlife Conservation Educators Course from 8 am to 5 pm. These classes are offered for $130 each. Registration and payment for either class can be made on the FCF website.
Thursday afternoon is the official start to the Convention with registration, vender displays, social mixer and various exotic kittens on exhibit at the FCF's hospitality suite at the Radisson Hotel. Evening cash bar and plenty of food tops off the day's events, giving everyone time to socialize, network, see various feline kitten species, and share experiences with like minded folks.
Friday the group travels to the Nashville Zoo at Grassmere, home of one of the nation's premiere clouded leopard breeding facilities. FCF has arranged for an exclusive "meet and greet" with the zoo's latest clouded leopard cubs and their handlers. Following this will be a buffet lunch in the Jungle Terrace Pavilion. Plenty of wildlife from around the world, including other felines such as tigers, Eurasian lynx and American pumas, keeper talks, and a very special behind the scenes tour will round off the afternoon.
Friday night is time for Convention attendees to kick up their heels and dance the night away at one of Nashville's top nightspots, the Wildhorse Saloon that features world famous barbeque, dancing, and plenty of music. This is no ordinary restaurant, its Nashville's largest, hotest, family friendly venue in town.
Saturday the group will listen to a variety of professionals speaking on feline related topics. This year's keynote speaker is Gregory Breton, director of Le Parc des Félins in Paris, France. Gregory has husbandry experience with 26 feline species, several which have never been exhibited in the US. Other speakers include Dr. Jim Sanderson, FCF resident Conservation advisor, who travels the world advising and overseeing camera trapping, and who assists government agencies on understanding wild felid population trends and conservation efforts.
Banquet dinner and fundraiser auction on Saturday night gives everyone a last chance to socialize and support the conservation work of the FCF.
FCF executive director Lynn Culver says, "Nashville Zoo is a 'purrfect' choice for this year's convention. The clouded leopard cubs and our international guest Gregory Breton are guaranteed crowd pleasers. Combining this with Nashville's biggest country music week of the season will make this a great convention for the while family."
The FCF Convention is $200, and is open to anyone interested in wild feline conservation and husbandry. Hotel reservations can be made by calling the Radisson Hotel at 800-967-9033 and mentioning the FCF Convention to get the special $95 room rate until May 21. An online Convention and Husbandry and Educators Courses Registration Form and easy payment can be filled out on the FCF website.