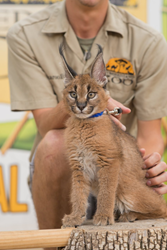 Promised Land Zoo joins a handful of feline facilities that hold the distinction of being FCF accredited.
Washington, D.C. (PRWEB) November 06, 2014
The Feline Conservation Federation has approved Branson's Promised Land Zoo for feline facility accreditation. FCF accreditation is bestowed after inspection of the facility and comprehensive review of its application. FCF facility accreditation is awarded to zoos, exhibitors, sanctuaries and private owners that meet high standards of animal care, husbandry, and protection of the animals and the public.
FCF Executive Director Lynn Culver says, "Promised Land Zoo joins a handful of feline facilities that hold the distinction of being FCF accredited."
Branson's Promised Land Zoo opened in May of 2013 and public reception has been outstanding. The nine-acre biological park features 45 species of wildlife, including four species of feline; lion, tiger, serval and caracal.
Outdoor habitats feature sturdy construction, gabled roofing, stamped concrete, drains to the sewer and even guttering to prevent undermining of foundations. Exclusion barrier fences are all at least five feet from any animal exhibit and are constructed of sturdy welded wire. Most of the carnivore enclosures are built with chain link for safety, and welded wire also.
Accreditation chairperson Christa Donofrio says, "The young zoo's design is impressive, and the committee especially liked its spacious, well-organized nutrition building and the carnivore building's inside lockdowns." Donofrio is one of five accreditation inspection committee members chosen for their experience in feline husbandry, facility management and design.
Jeff Sanders, who is no stranger to the zoological world, built the zoo from the ground up. Promised Land Zoo is the family's second zoo; the other Promised Land Zoo in Eagle Rock, Missouri opened 25 years ago as a drive-through park exhibiting over 500 animals of 60 species.
Sanders utilized his construction company to build both zoos from scratch. Daughter Laura Remenar remarks, "It's definitely a plus to be able to do all your own structures and modifications that every facility needs over time."
Park visitors take a foot safari and learn about wildlife conservation alongside the zoo's live shows and one-of-a-kind interactive experiences. Three generations live and work with Promised Land Zoos along with a staff of animal professionals with degrees in biology, wildlife conservation management and agriculture.
Founded in 1956, FCF supports the conservation of wild felids by advocating for qualified individuals to own and to pursue husbandry of wild felines, providing expertise and material support to ensure the continued welfare and viability of these populations, contributing to research, and funding protection programs that benefit felids living in nature.