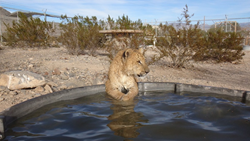 This is an exemplary example of what private facilities can achieve on their own.
Washington, D.C. (PRWEB) February 26, 2015
The Feline Conservation Federation (FCF) today announced that the private facility operated by Zuzana Kukol and Scott Shoemaker was renewed accreditation by FCF's independent Accreditation Committee. Zuzana Kukol and Scott Shoemaker are founders of the non-profit organization dedicated to responsible exotic animal ownership known as REXANO.
"Ms. Kukol and Mr. Shoemaker have one of the best facilities in the country, meeting the FCF's high standards in design and management," said FCF Executive Director Lynn Culver, adding, "it takes hard work and dedication to meet Feline Conservation Federation facility standards."
To be accredited, the privately owned and operated facility underwent a site visit and completed a thorough application to ensure it has and will continue to meet the ever-rising FCF standards addressing animal care and safety. FCF requires all applicants, whether zoos, sanctuaries, or private facilities such as this one, to successfully complete this rigorous accreditation process every two years in order to be assured they continue meet the FCF accreditation standards.
This is the second time this facility has been examined by the FCF accreditation committee. Since originally being accredited it has enlarged its feline collection, enhanced the feline environments, and still continues to provide enrichments and a high quality life for its resident cats. "This is an exemplary example of what private facilities can achieve on their own", says accreditation committee Chair Christa Donofrio.
The accreditation process includes a detailed application and a meticulous on-site inspection by committee members experienced with enclosure design and execution and feline husbandry. The inspection observes all aspects of the operation in areas such as animal care, keeper training, safety and contingency plans, and veterinary programs and care.
Founded in 1956, the Feline Conservation Federation (FCF) is a nonprofit organization dedicated to the conservation of felines both in captivity and in nature. The FCF accredited logo is an assurance that the facility is dedicated to providing excellent care for animals. FCF is the leader in global feline conservation, and links the captive husbandry practiced by its member facilities to felid research and habitat protection in nature.