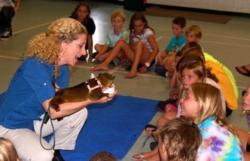 Animal ambassadors possess an incredible ability to attract, engage, and help professionals like myself, educate the American public about wildlife and ecosystems.
Washington, D.C. (PRWEB) October 22, 2012
On Sunday, November 11, the Conservators' Center in Mebane, North Carolina, will host the Wildlife Conservation Educators Course. This Feline Conservation Federation (FCF) "how to" continuing education class is taught by Debi Willoughby, a Massachusetts licensed wildlife educator and founder of Jungle Encounters.
Instructor Willoughby believes how we treat the earth is the most serious issue we face. Concern for this problem inspired her to work with the FCF to develop a one day instructional class to help conservation educators develop effective programs that enlighten the public and bring understanding of complex environmental issues.
Willoughby explains that wildlife education is sharing knowledge about wildlife diversity, including animals, plants, ecosystems, habitats, and the natural balance of how we all have a place in nature. Willoughby considers wildlife conservation education programs, especially those that incorporate ambassador animals as opportunities that can change the future. Willoughby says, "Educators never know when, or how, they may impact a young life. The future of wildlife conservation and/or legislation may be in the classroom you are about to visit."
The class begins at 8:00 am and run to 5:00 pm. Students learn to develop safe, informative, entertaining, and successful wildlife education programs. Willoughby explains how to choose and train animal ambassadors, and how to manage different types of audiences. Existing educators learn new ways to stand out and be a valuable asset to their employer. Folks just starting learn how to create their own wildlife education program. Willoughby teaches how to form a business, marketing strategies, and also, how to expand and keep the business successful.
The Sunday class will include a visit from Zoofari Educational Encounters. Zoofari's Michelle McKay shares wildlife ambassadors like kinkajou, wallaby, red-handed tamarin or Geoffroy's cat in Zoofari's outreach program, and she will talk about her show preparation and presentation. McKay says, "Animal ambassadors possess an incredible ability to attract, engage, and help professionals like myself, educate the American public about wildlife and ecosystems,"
Professional wildlife exhibitors, such as Willoughby and McKay, are licensed by the United States Department of Agriculture (USDA) and must meet stringent regulations on animal welfare and public safety. Willoughby designed the curriculum to prepare upcoming educators for federal licensing, and she notes, it is also a valuable continuing educational opportunity for the folks already working at zoos, nature centers, and wildlife sanctuaries.
The Conservators' Center is a rescue and educational wildlife facility with almost 100 animals, representing 19 species. Living at the center are tiger, lion, leopard, serval, jungle cat, caracal, bobcat, ocelot, and Geoffroy's cat, as well as non-feline species including binturongs and wolves.
Driving directions to the Conservators' Center are on their website. Nearest airports are Raleigh-Durham (RDU) and Greensboro (GSO). Various lodging is available in Mebane. Fees for either course is $130, and registrations can be made and paid for online at the Feline Conservation Federation website.
The Center is also hosting another FCF course, its highly acclaimed Wild/Exotic Feline Husbandry Course, on Friday, November 9. Then Saturday, students are invited to return to the Conservators' Center for an afternoon Pumpkin Prowl festival, and that evening for Twilight Tours. This "wildcat weekend" concludes Sunday with the Wildlife Conservation Educators Course, giving students the tools they need to become knowledgeable exotic feline owners and successful wildlife educators.