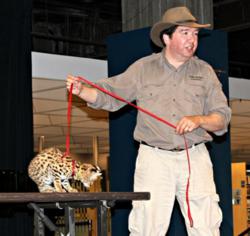 This course is very helpful for getting into the world of wildlife education.
Washington, D.C. (PRWEB) October 13, 2011
The Feline Conservation Federation (FCF) is conducting the next Wildlife Conservation Educator's Course on Saturday, November 5, from 9:00 am to 5:00 pm at the Cincinnati Zoo and Botanical Gardens.
The multimedia presentation teaches how to begin a wildlife educator career, how to create a wildlife program that keeps the audience engaged, how to get points across, how to build public credibility and image, and how to pick, condition, and present an exotic feline ambassador and keep spectators, staff, and felines safe.
The registration fee is $145. FCF member discounted price is $110. Students can join FCF online, and register for the course and pay with Paypal on the Feline Conservation Federation web site. Or mail check to FCF P.O. Box 31210, Myrtle Beach, SC 29588. Visit the Upcoming Events page for more information.
According to Craig DeRosa, course graduate, and licensed puma exhibitor, "This course is very helpful for getting into the world of wildlife education. Reading through the handbooks, listening to the presentations, and seeing the experts in action gave me some great ideas on how to set-up my own exhibits."
Two bonus activities let students watch wildlife presentations by seasoned professionals. Students arriving at the Cincinnati Zoo entrance at 3:30 Friday afternoon will be led to the new Puma Exhibit. Course instructor Ron DeArmond, will talk to zoo guests on America's great cat, as the pumas demonstrate natural behaviors.
On Saturday, November 5, arrive at the Cincinnati Zoo entrance gate at 9:00 am. The course will be taught in the Flamingo Room of the Tree Tops building. Morning lessons will conclude with a catered lunch. Students will walk to the Cheetah Encounter Arena to hear a talk by cheetah handlers and watch the cheetahs run. After that, more instruction will resume followed by testing. Passing students will receive a decorative certificate of achievement.
The registration fee covers Friday, November 4 zoo admission at 3:30 pm for the puma talk, and Saturday, November 5 zoo parking fee and zoo entry fee, as well as the all day learning event, lunch, cheetah talk, and cheetah run. Course provides Wildlife Educators textbook, exotic feline ambassador booklet, testing, certificate of achievement and deli lunch.
The official hotel is the Hampton Inn and Suites Cincinnati/Uptown-University Area. Located across the street from the zoo, at 3024 Vine Street, Cincinnati, Ohio, 45219, it is just a short walk to the zoo entrance. The special FCF room rate is $109. Book your room online or call 513-281-2700 and reserve Friday and Saturday for $109. Use the code "CHXFCF." Hampton Inn provides complimentary hot breakfast and in-room Internet service.
The Airport Executive Shuttle can provide round trip transportation from Cincinnati Northern Kentucky International (CVG) to the hotel for $30. Book at 800-990-8841, or at the desk at the baggage claim area.
The Feline Conservation Federation is a non-profit education and conservation association. FCF members and facilities specialize in hands-on captive husbandry of exotic felines for good will ambassadors, educational roles, and conservation breeding.
###