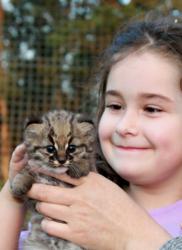 The committee chose as the motto, "The Future Protectors of the World's Wild Cats", because it summarizes our hope for saving nature and wildlife habitat
Washington, D.C. (PRWEB) February 29, 2012
The Feline Conservation Federation (FCF) has created a unique online newsletter to educate school age children about wild felines, captive husbandry, and conservation. The FCF newsletter titled Young Feline Ambassador is now available to everyone free of charge. To subscribe to the Young Feline Ambassador, use the easy sign up box on the left hand column of the FCF web site. Subscribers receive a bi-monthly email with the latest edition of the newsletter attached in pdf format.
Each issue of the Young Feline Ambassador will feature information about wild feline species, many of which will never be exhibited at any local zoo. More than two thirds of the planet's wild felines are smaller, or not much larger, than the family housecat. These felines all share the same common ancestry and basic design as the domestic cat, but the future of the world's wild cats is uncertain.
Debi Willoughby, FCF Youth Education Committee chair, wants children to know that despite what they see on television and in movies, predators, such as the wild felines, are not mean, scary, or bad. Many felines and the ecosystems they depend on are not thriving, and Willoughby stresses that to reverse this trend, it will take cooperation of an entire generation. Willoughby says, "The committee chose as the motto, "The Future Protectors of the World's Wild Cats", because it summarizes our hope for saving nature's cats and their habitat."
The Young Feline Ambassador brings wild felines to life with articles about FCF supported researchers who are studying and protecting the planet's many species of cats. Young Feline Ambassador will also publish poems, stories, and photos submitted by its youth audience, as well as from the historical archives of the FCF, dating back to 1956. Puzzles and games are added as a fun way to reinforce the learning lessons found in each issue. Readers will also be informed of FCF events, such as the FCF Annual Convention, Basic Wild Feline Husbandry courses and Wildlife Conservation Educator's courses.
The Young Feline Ambassador is the only free e-newsletter of its kind, dedicated entirely to the subject of exotic feline conservation. Willoughby explains that conservation of wild felines is hampered by ignorance of their existence, lack of knowledge of their natural history, and indifference about their survival. The FCF Youth Education Committee wants to increase awareness and knowledge to drive conservation efforts, raise concerns about extinction, and make youth care about these wonderful felines.
Willoughby invites elementary, middle, and home school teachers, and youth groups and nature clubs to sign up for the Young Feline Ambassador so they can utilize this learning resource as part of biological science curriculums. Back issues of the Young Feline Ambassador can be read on the FCF website, under the Youth Section.
The Feline Conservation Federation is a non-profit organization of exotic feline owners, outreach educators, zoos, sanctuaries and breeding facilities. FCF members hold the largest and most diverse population of wild felines in America, including several species such as Bengal tigers, Asian leopard cats and Geoffroy's cats that are not conserved by the larger zoo associations.
###