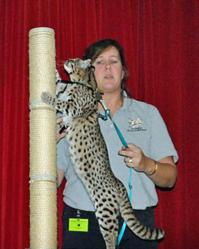 If you want to start your own wildlife education business, this course will teach you tried-and-true tips on how to do so
Washington, D.C. (PRWEB) March 31, 2012
The Feline Conservation Federation (FCF) is teaching a Wildlife Conservation Educator's Course on Wednesday, June 6 from 8:00 am to 5:00 pm at the Radisson Hotel Cincinnati Riverfront.
The multimedia presentation instructs students on the basics of how to develop a wildlife educator career, how to create wildlife programs for school age to adult audiences, how to present conservation messages that get points across, how to build public credibility and image, and how to choose, handle and present exotic feline ambassadors so that spectators, staff, and felines remain safe.
Registration for this one-day course is $130. FCF member discounted price is $95. To register for the course and pay with Paypal or credit card, visit the Feline Conservation Federation web site. The FCF also accepts payment by check. Mail registration fee to FCF P.O. Box 31210, Myrtle Beach, SC 29588. Visit the Upcoming Events page for more information.
Debi Willoughby, founder of Jungle Encounters, a Boston area wildlife exhibitor is the course instructor. The FCF developed the Wildlife Educators Course to be a unique, continuing education learning opportunity, as well as an important starting point for any aspiring wildlife educator. From sanctuary volunteer, to zoo docent, to outreach educator, the course information presented will prepare students in their role as wildlife conservation educators.
Willoughby says, "If you want to start your own wildlife education business, this course will teach you tried-and-true tips on how to do so. If you currently perform shows for an animal facility, the FCF course will teach you different ways to improve your shows and be a great asset to your employer."
A hands-on workshop is part of the multimedia presentation, giving students a chance to use what they have learned. Planned also is a visit from the Cincinnati Zoo's, "Wildlife Comes To You" outreach educators. These seasoned, professional exhibitors will not only present a few animals to students, they will also speak on their preparations and considerations for creating successful outreach presentations, and answer student questions.
The Wildlife Conservation Educator's Course provides Wildlife Educator's textbook, testing, and certificate of achievement for students that pass. Lunch is provided.
The location of the Radisson Hotel Cincinnati Riverfront is 668 West Fifth Street, Covington, Kentucky. The special FCF room rate is $99. Reserve a room at the Radisson before May 26. Call Reservations at 1-800-395-7046.
The Airport Executive Shuttle can provide round trip transportation from Cincinnati Northern Kentucky International (CVG) to the hotel. Book at 800-990-8841, or at the desk at the baggage claim area.
The Feline Conservation Federation (FCF) is a self-regulating group of exotic feline owners and handlers with an established group of professional members and inspected and accredited facilities. FCF is both an important genetic resource as well as a key resource of ambassador animals used in conservation education.