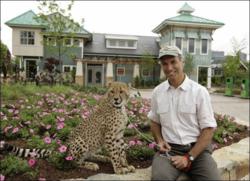 The FCF annual convention has something for everyone - exotic kittens, a day at the zoo, informative speakers, and a riverboat dinner cruise
Washington, D.C. (PRWEB) April 30, 2012
Exotic feline enthusiasts from around the world will gather for three days of learning, networking and fun during the annual convention of the premiere exotic cat organization, the Feline Conservation Federation (FCF). The diverse society has members who own and work with wild felines from ocelots to tigers, as well as others who are educators, researchers, conservationists and exotic cat enthusiasts. Folks interested in learning about how to care for, and protect, exotic felines are welcome to register and attend their function.
The FCF's 41st Annual Convention will be held at the Radisson Hotel Cincinnati Riverfront, 668 West Fifth Street, Covington, Kentucky beginning Thursday, June 7, and concluding Saturday evening.
Preceding the convention, FCF offers two educational classes on Wednesday, June 6 at the Radisson Hotel Cincinnati Riverfront. Certified instructors teach both a Basic Exotic Feline Husbandry Course and a Wildlife Conservation Educator's Course. Each class starts at 8 am and runs to 5 pm.
A cherished tradition is appearances of exotic kittens during Thursday's hospitality icebreaker, and this year is no exception. FCF members are some of the most experienced breeders and exhibitors in the country and a few of their kittens will be on display at the annual event. FCF Executive director Lynn Culver explains, "Some members have lifestyles that are not conducive to owning or working with the cats. For them, this is their one opportunity to see exotic felines up close and personal. For those training to become responsible owners, or to gain employment at licensed facilities, this interaction offered by seasoned professionals is a great way to learn more about the various felines."
Friday, the cat crowd will converge on Cincinnati's Zoo and Botanical Gardens for a day of fun. Feline trainers, including Cathryn Hilker, founder of the "Angel Fund", established in memory of Angel, the cheetah, will present a very special cheetah run at the Cat Ambassador Arena. FCF president Kevin Chambers says, "FCF is never disappointed when we visit world class Cincinnati Zoo and the amazing cats of the ambassador program."
Cincinnati Zoo director, Thane Maynard, known for his national public radio spots as the "90-Second Naturalist", will join the feline fanciers and discuss feline conservation and partake in a Cincinnati favorite, Graters Ice Cream and toppings.
On Saturday the group will get serious with talks on captive husbandry, field research and feline conservation. One speaker building a lot of excitement is Neville Buck, small mammal manager for the Port Lympne Zoo in Kent, United Kingdom. Port Lympne was founded by one of the zoo community's most ambitious and groundbreaking citizens, the late, great John Aspinall. Buck has spent a quarter of a century working with rare felines such as the Rusty Spotted Cat, jaguarundi and Scottish wildcat. Dr. Jan Janecka, geneticist for the Snow Leopard Conservancy will report the latest results of his efforts to unravel the mysteries of white tiger DNA. Dr. Jim Sanderson, founder of Small Cat Conservation Alliance and science advisor for the FCF, will update everyone on his latest camera trapping efforts around the world. Bruce Eberle, president of Eberle Associates, will explain fund raising opportunities available to non-profit facilities.
Families bringing children can enroll their kids in the "Kitten Corner" during the morning speaker presentations, where plenty of games, events and age appropriate learning opportunities will be offered.
Saturday night everyone will board the Bell of Cincinnati Riverboat for a sunset tour of the Cincinnati skyline. A banquet dinner will be followed by a fundraiser auction led by celebrity auctioneer Jarrod Miller.
The registration fee for the three day convention runs $200 for adults, kids under 12 are free with adult, and children ages 12 to 18 cost $125. Both of Wednesday's educational courses are $130 each. "The FCF annual convention has something for everyone - exotic kittens, a day at the zoo, informative speakers, and a riverboat dinner cruise", says Culver.