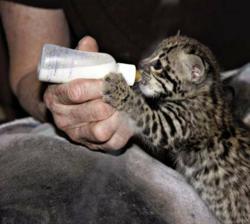 The contingency planning workshop helps students prepare for real life emergency scenarios. Being fully prepared can make the difference between success and tragedy when out of the ordinary events occur.
Washington, D. C. (PRWEB) May 27, 2012
The next Feline Conservation Federation Wild Feline Husbandry Course will be conducted Wednesday, June 6, from 8:00 am to 6:00 pm at Radisson Hotel Cincinnati Riverfront, 668 West Fifth Street, Covington, Kentucky 41011. The course covers how to care for exotic felines ranging from the tiny South American Geoffroy's cat, to the medium sized African serval to a giant Bengal tiger. Reserve a room at the Radisson by calling reservations at 1-800-395-7046.
The Feline Conservation Federation is offering this FCF continuing education course to for $130. Membership in the FCF is not required. The class does precede the organization's annual gathering, which runs from the afternoon of Thursday, June 7 through to Saturday night. Registration and payment for the husbandry course can be made online using the FCF web site, or by mailing to FCF, P.O. Box 31210, Myrtle Beach, SC 29588.
The FCF course is an instructor led, multi-media presentation, complete with 83-page student text, workshops, lunch, and decorative certificate for students that pass the final exam. The course provides a basic understanding of what is involved in legal, responsible, private ownership of wild felines. For novices it is extremely helpful, for experience owners and feline handlers, it gives students a better understanding of many aspects of captive husbandry. Course topics focus on natural history of wild feline species, regulatory agencies and permits, facility design, handling equipment, diet and nutrition, health care, behavior and handling, and contingency planning.
Certified Husbandry Course instructor Mindy Stinner, notes that the Zanesville, Ohio tragedy last fall highlights the immense need to be prepared. Stinner says, "The contingency planning workshop in this course helps students plan and prepare for real life emergency scenarios. Being properly prepared can make the difference between success and tragedy when out of the ordinary events occur."
The FCF developed the Wild/Exotic Feline Husbandry Course as a comprehensive 8-hour educational presentation in accordance with a nationally recognized standard for technical training known as the Systematic Approach to Training (SAT). This course is the only one of its kind, providing continuing education valuable to wild feline keepers, aspiring owners, veterinarians, animal control officers, wildlife personnel and managers. Stinner says, "The FCF course teaches exotic cat owners so that they and their cats are safe and properly cared for." Stinner says the USDA Animal Health Care Inspectors have attended previous classes and given the FCF high marks.
Feline Conservation Federation members are licensed breeders, educators, private zoos, individual owners, sanctuaries and conservationists, as well as individuals interested in learning more about captive husbandry and felid conservation. In addition to teaching the Basic Wild Feline Husbandry Course, the Feline Conservation Federation will also offer the Wildlife Conservation Educator's Course June 6, at the Radisson as well.