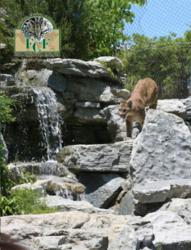 With 57 million domesticated cats living in American households; it is only natural that interest in their wild cousins is booming.
Washington, D.C. (PRWEB) August 08, 2012
The award winning FCF Journal is a one of a kind wild feline magazine offering unique perspectives on feline captive husbandry, in-situ conservation, and feline natural history. The Journal is just one of many benefits of membership in the Feline Conservation Federation (FCF), the original organization devoted to the propagation and protection of felines. During August, cat lovers can join online and membership extends through October 2013. This special offer gives new general members two extra issues of the FCF Journal, as well as invitations to exclusive FCF events and learning opportunities.
Founded nearly six decades ago, the federation was originally called the Long Island Ocelot Club because of the many ocelots owned by members. Today, it is known as FCF, and its feline census shows the membership holds 25 different species, including unique species not exhibited by the big zoos. Members live in the US, Canada, South America, Europe and Africa. The organization is governed and led by its professional members, but offers a general membership for hobbyists and feline enthusiasts.
The Journal publishes spectacular photos and original articles. Topics range from taking care of tiny tigrinas to breeding Bengal tigers, to designing habitats to keep cats happy, to health advice written by veterinarians. And always, the Journal offers plenty of personal stories authored by those who live and work with these incredible felines. The Journal reports on its efforts to help felines in nature too. Dr. Jim Sanderson, Cat Specialists' Group member for the International Union for the Conservation of Nature, (IUCN) sits on the FCF conservation committee tasked to award grants to field researchers needing FCF assistance for conservation and protection projects.
The FCF Journal keeps readers up to date on events and educational classes taught by FCF certified instructors. New members will find the July/August 2012 issue is no exception, with a veterinarian's review of the recent annual convention, a report on FCF's very special tour of the Cincinnati Zoo and Botanical Gardens, and student critiques of the Wildlife Conservation Educator's and the Feline Husbandry Courses.
Managing Journal editor Lynn Culver explains that the Journal is packed with "purrsonality". Readers discover a diversity of advice and knowledge contributed by professional members who are zookeepers, breeders, trainers, and educators, and from hobbyist members who are just "wild about these cats."
Culver says, "With 57 million domesticated cats living in American households; it is only natural that interest in their wild cousins is booming. These cat owners can join as general members to learn more about their pet's wild ancestors."
The FCF is a self-regulating group of peers with an established group of professional members registering unequalled experience in captive husbandry of wild felines. FCF is also an accrediting board with inspected and accredited facilities. FCF maintains a wealth of feline genetic diversity and is a key source of ambassador felines used in conservation education. General membership is open to all those who share a love of these felines and a desire to keep them alive and healthy for future generations.