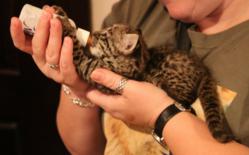 In today's tightly regulated exotic animal industry, taking these courses should be mandatory for any committed owner.
Washington, DC (PRWEB) August 30, 2012
Join cat enthusiasts from around the country for a Wildcat Weekend at the Conservators' Center in Caswell County, North Carolina, from Friday, November 9 through Sunday, November 11. The Center will host the Wild Feline Husbandry Course and the Wildlife Conservation Educator's Course. The Feline Conservation Federation (FCF) is partnering with the Conservators' Center to bring these continuing education opportunities Friday and Sunday, along with offering outstanding field trip options on Saturday.
Certified husbandry course instructor and Conservators' Center co-founder, Mindy Stinner says, "The FCF Feline Husbandry course is a unique learning opportunity because it covers so many subjects that are important to anyone involved in exotic felines. In today's tightly regulated exotic animal industry, taking these courses should be mandatory for any committed owner."
On Friday, November 9th, the Conservators' Center will host the Wild/Exotic Feline Husbandry Course from 8:00 am - 5:00 pm. This course is designed to aid cat caregivers at any level of experience in providing better quality of life for their felines while also making them aware of larger issues in the feline ownership world. The course includes an introduction to all the species of wild cats, and has sections covering nutrition, health care, habitat construction and enrichment, laws and regulatory agencies, contingency planning, and much more
On Saturday, November 10, students can recharge by attending the Pumpkin Prowl festival on site at the Center, or join the Twilight Tours at a reduced cost. The Conservators' Center is an educational wildlife facility, home to almost 100 animals representing 19 species, including nine species of feline - tiger, lion, leopard, serval, jungle cat, caracal, bobcat, ocelot, and Geoffroy's cat. Other cat-related activities in the area include a visit to Tiger World. This FCF member organization located in nearby Rockwell houses more than 30 felines including tiger, lion, leopard and bobcat.
On Sunday, November 11, the Conservators' Center will host the Wildlife Conservation Educators Course from 8:00 am - 5:00 pm. This newly revised "how to" educator's course is taught by Debi Willoughby, founder of Jungle Encounters, a Massachusetts wildlife education business. Willoughby helps students develop safe, informative, entertaining and successful wildlife education programs. This course covers how to choose and train animal ambassadors and manage different types of audiences. Students already employed as educators will learn how to stand out and be a valuable asset to their employer, and those just starting will learn how to create their own wildlife educator program. Topics include how to form a business, marketing strategies, and how to expand a business and keep it successful.
For more information about CCI visit the web site and be sure to follow the Visit Us link to directions and follow the directions on the web site to avoid getting lost.
There are several local hotels and motels available in Mebane and Burlington, and a wide variety of dining options. The closest airports are Raleigh-Durham (RDU) and Greensboro (GSO).
The registration fee for each class is $130. The package for both courses is $260. A $35 discount per course is offered for FCF members and will be applied to those who join when registering. Registrants may choose to attend both, or just a single class. For more information, to join the Feline Conservation Federation, or to register and pay for these courses visit the Feline Conservation Federation website. To register by mail, please provide your name, which class or classes you are enrolling in, your facility name if applicable, phone number, email address, and mailing address, along with check payment to Conservators' Center, PO Box 882, Mebane, NC 27302.