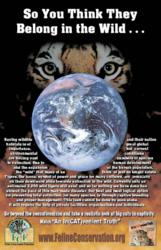 Watch An InCATvenient Truth on the Feline Conservation Federation website, and understand the difference between big cat hype and big cat reality
Washington, D. C. (PRWEB) January 30, 2012
The Feline Conservation Federation (FCF) documentary titled An InCATvenient Truth debunks the sensationalism, and takes a realistic look at big cats in captivity. An InCATvenient Truth is now viewable online on the FCF web site and DVD's of this documentary can also be purchased from the FCF online store.
The 18-minute video opens with the sensational live audio of actual 911 first responders and the cacophony of dozens of news broadcast reports, and ends with the hopeful vision of thousands of Noahs and thousands of arks saving the planet's great cats, giving viewers a new understanding of the "big cat" controversy.
An InCATvenient Truth divides the big cat issue into six parts; The Media, Animal Rights, The Myth of the Wild, Wildlife Ambassadors, Captive Breeding, The Future. Taking both a humorous and serious approach to this important topic, An InCATvenient Truth exposes commonplace misconceptions and provides a thought provoking examination of the true threats endangering the future of big cats.
An InCATvenient Truth writer and narrator, Robert Johnson, is a professional wildlife trainer with more than twenty years experience handling feline species including tiger, lion, puma, leopard, and cheetah, as well as smaller felines such as the Eurasian lynx and ocelot. Johnson cites more than two dozen sources that substantiate An InCATvenient Truth.
In "The Media," viewers learn sensationalism gains ratings and sells papers. Death by a big cat receives full coverage because it is sensational, but it only accounts for one accidental death per year. By comparison, 358 people a year are killed by kites, 652 people a year are killed by chairs, but neither cause of death ever makes the front-page news.
"Animal Rights" is exposed in An InCATvenient Truth as a half billion-dollar per year industry, manipulated by charlatans that have no credentials. The FBI and the Department of Homeland Security both list animal rights organizations as domestic terrorist threats.
"The Myth of the Wild" explains that development to accommodate an expanding human population of seven billion people has caused the "wild" we think of, to just no longer exist. Tigers, the iconic symbol of power and grace for many cultures, are ironically on their downward slide towards inevitable extinction in the wild.
"Wildlife Ambassadors" shows how important hand-raised animals are in the effort to stabilize populations in the wild. Viewers learn that public education and awareness, combined with a personal and emotional contact with nature's creatures does motivate us to save a species.
"Captive Breeding" examines this best and most logical option for preventing total extinction. Zoos alone cannot provide sufficient cage space for so many threatened species, and zoo budgets are stretched to the limit addressing human visitor needs. Only private breeding facilities are able to direct all their funding to the husbandry of the animals, and can afford the luxury of multiple breeding pairs.
"The Future" looks at the power of understanding as the first step towards fixing the problem. Johnson concludes this powerful presentation with a heartfelt call to all those unable to help, to, "At least stop making it harder for those of us who do."
The Feline Conservation Federation is an association of feline keepers, handlers, breeders, educators, zoos, sanctuaries, researchers and conservationists. FCF supports captive breeding programs, and helps conserve felines in nature. Johnson says, "Watch An InCATvenient Truth and understand the difference between big cat hype and big cat reality."
###