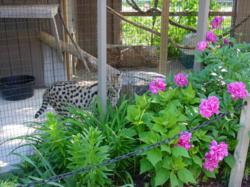 FCF accredited facilities help raise public awareness of threats facing felines in nature, and, are important partners that help build public and legislative support for captive habitat
Washington, D.C. (PRWEB) April 19, 2012
Hawk Creek Wildlife Center, Inc. and G.W. Exotic Animal Memorial Park are two of the latest feline facilities to earn accreditation from the Feline Conservation Federation(FCF). FCF accreditation is an assurance that the facility is providing excellent care for felines. FCF exhibitors provide great experiences for the public and help shape a better future for felines living in nature.
FCF accredited facilities represent a diverse collection of the finest FCF members, including licensed breeding centers, zoos, educators and sanctuaries. FCF accreditation is a detailed review and inspection process covering all aspects of a feline facility's operation, including diet, veterinary care, physical design, construction and maintenance, public and employee safety, and licensing record. Accreditation takes place every two years, ensuring that facilities are maintained at standards that meet FCF accreditation policy.
With just over a dozen accredited feline facilities, FCF can attest that facility accreditation is truly limited to centers that meet high standards. FCF accredited refuges and educators like Hawk Creek Wildlife Center and G.W. Exotic Animal Memorial Park help preserve threatened and endangered felines through their rescue and public education programs.
Hawk Creek Wildlife Center is an environmental center in East Aurora, New York, performing wildlife rehabilitation, outreach education and conservation. Over 500 native wildlife species are treated and released annually. The feline residents of Hawk Creek are a mixture of rehomed pets and felines that owners gave up, and a couple of specially acquired ambassador felines. The Hawk Creek Wildlife Center is open just seven days annually for public events, but performs outreach educational programs to reach and educate a large part of mainstream America that does not normally visit animal parks. FCF accreditation committee member Bill Meadows says, FCF is proud to accredit Hawk Creek Wildlife Center, a valuable member of the wildlife conservation education community."
G.W. Exotic Animal Memorial Park was founded in 1997 to provide lifelong homes for animals that are abused or whose owners can no longer care for them. The park is one of the country's largest feline refuges and is open to the public seven days a week. The park breeds selected felines for outreach education, genetic preservation, and display. Expansive and secure enclosures are provided for compatible groups of tigers and lions. The high-fenced habitats use water features, manmade mounds for resting and elevated viewing, wooden platforms and towers, and various plantings and trees to create interest and diversity for the resident felines.
Meadows visited the Wynnewood, Oklahoma facility to evaluate its current diet, staff, and records, and inspect construction and maintenance of feline enclosures. Meadows stated, "G.W. is a very clean park. There are many great improvements made in the past few years. The grounds are well-maintained and well-landscaped, and the cats have a high quality of life at the park."
FCF works to aid state legislative bodies, U.S. Congress, and the USDA on legislative and regulatory matters pertaining to feline welfare, wildlife conservation, and education programs that use felines in public display. FCF supports a number of international feline conservation efforts through its Conservation Grants and Rare Species Fund programs. FCF funds research and education programs that protect the endangered South American Andean cats, guinas, and Geoffroy's cats, and funds the research and protection of cheetah, leopard, and black-footed cats in Africa, and tigers and fishing cats in Thailand.
FCF Executive director Lynn Culver says, "FCF accredited facilities help raise public awareness of threats facing felines in nature, and are important partners that help build public and legislative support for captive habitat."