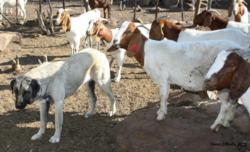 Innovative solutions that enable humans to ranch livestock in peaceful coexistence with native wildlife, including predators, is vitally important to the future survival of Africa's cheetah, leopard, and caracal
Washington, D.C. (PRWEB) June 22, 2012
The Feline Conservation Federation (FCF) co-managed Rare Species Fund (RSF) just awarded $5,000 support for the Endangered Wildlife Trust (EWT), human-wildlife conflict mitigation program in South Africa. The Human-Wildlife Conflict Mitigation Program initiates proven, workable solutions that mitigate, reduce, or eliminate stock losses and conflicts.
This is the third year the Rare Species Fund has awarded support for the EWT Livestock Guarding Dog Project. The Project has been extremely successful in Limpopo and Mpumalanga provinces of South Africa. Guard dogs are protecting goat, sheep and cattle ranches from predation by leopard, cheetah, caracal, wild dog, and jackal. The guard dogs are bonded with livestock at a critical phase of puppyhood, leading to the dog becoming an integral part of the farming operation by living with and guarding livestock day and night. The Endangered Wildlife Trust has successfully placed about 110 dogs during the past six years. Training and monitoring is done for the first year of placement and then two follow-up visits per year to ensure success. Farmers pledge they will not use traps or poison after the dog is placed.
The Rare Species Fund was created by T.I.G.E.R.S. (The Institute Of Greatly Endangered and Rare Species) to serve as a complimentary piece to its educational programs and field research. The RSF provides support to critical on the ground wildlife conservation programs across the globe. The FCF, a non-profit feline welfare and conservation organization, co-manages the RSF, giving donors tax-exempt benefits and dispersing money to projects that protect and conserve wild felid populations. RSF founder Dr. Bhagavan "Doc" Antle said, " Innovative solutions that enable humans to ranch livestock in peaceful coexistence with native wildlife, including predators, is vitally important to the future survival of Africa's cheetah, leopard, and caracal."
Management of the RSF compliments the Feline Conservation Federation's educational programs, as well as the conservation efforts of its members and facilities. FCF executive director Lynn Culver says the RSF supports the EWT Livestock Guard Dog Project because, "It replaces ineffective, cruel, and archaic methods such as poison and trapping of predators, with practical and field proven solutions and best practice methodology dealing with damage causing animals."
The Feline Conservation Federation is a self-regulating group of peers with an established group of professional members and inspected and accredited facilities. As a unique self-regulating body the FCF contains an unequaled level of expertise and quality. The FCF cares for and maintains the largest group of exotic felines in North America, representing more than five times the amount of captive exotic felines when compared to the Association of Zoos and Aquariums (AZA). FCF is both an important genetic resource as well as a key resource of ambassador felines used in conservation education.