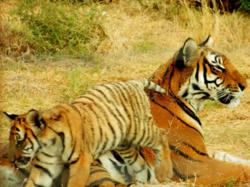 There are hundreds of viable, legitimate organizations and facilities that offer this country the propagation of wildlife resources and educational value.
Washington, D.C. (PRWEB) January 24, 2012
The Feline Conservation Federation (FCF) is tracking a decline in the number of state permitted and federally licensed facilities engaged in captive husbandry of exotic felines. FCF also reports an alarming percentage of the reproductively viable population is being removed from the genetic bank. FCF is extremely concerned that if the situation is not reversed, valuable genetic diversity could be lost forever and some feline species could face extinction in captivity.
Feline Conservation Federation (FCF) believes that state bills authored by the HSUS (Humane Society of the United States) are deliberately harmful to captive conservation. "Many people mistakenly believe that HSUS is an umbrella group representing thousands of local humane societies, but it is not," says FCF executive director Lynn Culver. "HSUS is an animal rights group that spends millions of dollars lobbying Congress and state legislators to pass bills outlawing farm animal agriculture, domestic pet breeding, and the ownership, breeding and exhibiting of exotic animals."
The Feline Conservation Federation is the nation's original organization devoted to feline welfare, captive husbandry, and protection of felines in nature. FCF members are professionals with decades of expertise in captive husbandry. FCF instructors teach basic wild felines husbandry and wildlife conservation education courses throughout the country.
FCF supports private ownership and captive breeding of exotic felines, and advises legislators to address exotic feline welfare and public safety concerns by adopting state regulations that require citizens to be knowledgeable and well prepared.
One bill that is receiving support from the FCF is the Oklahoma Responsible Exotic Cat Ownership Act. Representative Kim David has introduced Senate Bill 1799, which creates an exotic feline permit system, requires owner experience, and sets minimum standards for feline husbandry.
In contrast to SB 1799, is House Bill 2191, introduced by Oklahoma Representative Tibbs. The FCF strongly opposes this HSUS authored legislation prohibiting any federally licensed and inspected facilities from breeding any of their felines.
Legislators around the country are reacting after the deliberate release, followed by mass killing, of the most exotic animals in history. Last October, Terry Thompson, a Zanesville, Ohio man, opened the cages to his more than 50 big cats and bears before taking his own life.
"The HSUS continues to target isolated incidences such as the Zanesville tragedy, that in no way represent the vast majority of wildlife owners," says FCF Vice President Patty Perry. "Engaging the public with hysterical sensationalism is misguided and misleading. We invite the HSUS to research the legitimacy and true facts as they are. This attitude would be dangerous to any industry in a country that represents free enterprise."
Ohio Senator Balderson is expected to draft and release an exotic animal bill in the next week. The FCF is concerned that HSUS lobbying pressure could override recommendations of the governor-appointed animal stakeholder committee.
The FCF National Feline Census, which complies federal and state wildlife records from Freedom of Information Act data, documented just 20 Ohio residents, and 14 federally inspected exhibitors hold felines ranging from bobcats and servals to cougars and tigers.
Virginia Senator Lucas has introduced the HSUS authored SB 477, prohibiting most Virginia zoos from breeding wild felines, or adding or replacing any that have perished.
According to statistics from the FCF National Feline Census, Virginia has just 20 exotic feline exhibitors. If SB 477 passes, Virginia's eight million residents could be left with only four zoos to view wild felines.
In Indiana, HSUS authored legislation HB 1288 sponsored by Representative Lawson, eliminates Division of Fish and Wildlife exotic animal possession permits, and prohibits zoos and breeding centers from obtaining new wild felines or breeding their existing pairs.
HSUS online advocacy pages invite visitors to sign a formatted letter that urges legislators to support their ban bills and claims "Indiana has the weakest exotic pet laws in the nation," and that "Indiana has become a haven for breeders and dealers of wild animals."
The FCF census documented just 15 Indiana residents with wild feline permits, and most hold just a single animal. Only one Indiana resident is a licensed feline breeder and the state has 20 federally inspected exhibitors, zoos, and sanctuaries.
The Feline Conservation Federation is opposed to HSUS so-called "dangerous exotic animal" bills that deny Americans and especially children, valuable opportunities to see threatened and endangered felines. Legislation that prohibits, rather than regulates, is preventing new captive habitat for exotic feline husbandry. Culver says, "Private owners, and their captive habitat and breeding programs keep these magnificent felines alive and prevent them from disappearing from our view forever. HSUS ban bills harm the many viable, legitimate organizations and facilities that offer this country the propagation of wildlife resources and educational value."
###